Your kid's bed is no longer needed? You are welcome to resell your used kid's furniture and accessories directly on this highly frequented site. This is a free service for Billi-Bolli products that you originally purchased new from us.
If you would like to resell Billi-Bolli products that you bought pre-owned on this site, then we take a € 60 fee, which will be fully donated to our charity projects.
Notes
The offers on our second hand page have been translated automatically and therefore may contain translation errors. We take no responsibilities for these errors or the misunderstandings arising from them. Please visit the second hand page on our German website to view the offers in their original language.

Billi-Bolli Kindermöbel is not involved in the resulting resales. Whether an offer is reasonably priced or not must therefore be determined by the interested party (see Resale price recommendation). Such an assessment cannot be derived from the fact that the item is placed on our Second hand page.

We take no responsibility for the information posted by customers about kids' furniture for resale as we are unable to verify them.
Want to stay up-to-date on new offers?
Receive an e-mail as soon as a new second hand offer has been published:
---
Slide tower with slide
Offer 1389
. Published: 02 May 2014 (second hand loft bed)
sold
We offer here a billi-bolli slide tower with slide. The slide tower was originally inserted between two loft beds. After a move, the new children's room was not deep enough, so that we set up the slide tower with the slide on our own – as can be seen in the photo. For safety, the slide tower is shaved against the wall.
The dimensions of the slide tower are 80 x 65 cm x 200 cm above all incl. ladders and handles. The slide then stands out about 190 cm.
Both parts were purchased by us together with the high beds in May 2006. Due to the well-known excellent billi-bolli quality, the intensive use by our children has left only a few insignificant traces. However, for safety before the offer was made, we even had a small crack in the lateral boundary of the slide in the billi-bolli workshop expertly removed. The complete lateral boundary on one side is now new.
Now nothing stands in the way of the further pleasure of slipping!
Both parts are oiled from beech. The new price was 285 € for the slide and 280 € for the slide tower.
Our price tag would be 250 €. You get a perfect fun to play for, even rainy days are no longer a problem. Smaller children also like to use the platform of the slide tower as a small treehouse replacement.
The good piece can be inspected at any time in our installed condition by prior agreement. If it comes to the purchase, it would of course be best for the buyer to transport the tower in a built-up condition and the slide and then easily re-establish it in the new home. However, we are also happy to dismantle the tower and deliver the parts to the buyer individually within a radius of max. 50 km from Munich.
Comment:
... and it's gone - everything is sold!
So please remove the offer again, thank you for your help!
Regards
Fam. Tahedl
---
Bunk bed with bunk bed
Offer 1388
. Published: 02 May 2014 (second hand bunk bed)
sold
we sell a Billi-Bolli bunk bed (100 x 200 cm) in honey/amber oil treated with an additional bed, climbing rope incl. rocking plate and built-in shelf. The cot is now almost 7 years old but in very good condition. The new price at that time was EUR 1,497 (original invoice is available). We would now give it up for EUR 900 and, of course, help self-collectors to dismantle it.
Pick-up in the Rhine/Main area / north of Wiesbaden.
Comment:
Hello -
the bed was sold 10 days ago - please note this on the website
Thank you
THorsten cook
---
Bunk bed with accessories
Offer 1387
. Published: 02 May 2014 (second hand bunk bed)
sold
2.floors, mass L:211, B102, H 228,5, good condition
Spruce untreated, without mattresses
Accessories: ladder with handles, two bed boxes, steering wheel, slide and rope with rocking plate, 2 berth boards,
7 years old,
disassembled, assembly instructions attached,
purchase price at that time: 1520,- incl. shipping
Price presentation 600,-
Location: Allgäu
---
High bed with 2 beds, slide tower and plate swing
Offer 1386
. Published: 29 April 2014 (second hand loft bed)
sold
Purchase date 11.1.2007, the cot is in very good condition and only knows slight traces of usage.
High bed 90/200 incl. playing floor for the upper floor as well as a separate low bed type 4 90/200, which can be installed either completely separately or as a lower floor in the loft bed or over the corner at the loft bed (we had decided at that time for this variant, as one can all options has to build the apartment bed even if you should move)
Accessories: Knight's castle boards, climbing rope, rocking plate, slide tower, slide, slide ears, fall protection, curtain rods and sloping ladder for height 120 cm
NP: 1,662 Euro incl. shipping costs
Price presentation: 1,200 euros to self-collectors (location between Kassel and Göttingen)
---
Pine high bed
Offer 1385
. Published: 28 April 2014 (second hand loft bed)
sold
We sell our Billi Bolli loft bed.
It is the oiled and later white-glazed (from the organic construction market) pine version 90/200.
Incl. slatted slat, protective board and handles. In addition, a relaxing swing as shown on the picture.
The loft bed is in a very well maintained condition (without stickers or other works of art!)
The new price for the untreated bed in 2004 was 625,- € incl. shipping, the swing has a new price of approx. 50,- €.
For a price of 350,- € we give the adventure bed to self-collectors. If this is collected by May 11th, we offer a discount of 50€. The bed is already dismantled, all screws like the construction instructions are available.
Location between Stuttgart and Heilbronn.
Comment:
Thank you for setting our Billi Bolli bed on your secondhand side.
and... the bed has already been sold !!!!!!
The pick-up takes place already this evening, so we already ask you to put the note "sold" to our offer.
Thank you for the great service from your side :-)
Yours sincerely
Fam. Klingler
---
Ritterburg-Hochbett
Offer 1384
. Published: 26 April 2014 (second hand loft bed)
sold
We sell our height-adjustable Billi Bolli high bed in knight design
which was newly purchased in 2006:
Material pine wood, honey stained with Leinos amber wood oil
Mattress size: 1.90 m x 0.90 m
External dimension: 2.01 m x 1.02 m
The cot has been treated very carefully and accordingly good is the condition:
few traces of use of stickers, which have been removed as much as possible and are only recognizable by the different brightness of the wood. Because of the pine wood there are some dents in the wood, especially on the stairs of the sloping ladder. In hindsight, we bought the honey-coloured oil from Billi Bolli children's furniture to paint the shelves in the children's room. There is still a small residue of this and can be given if necessary.
The torch lamp (see picture) is from IKEA and can be added for 10,00 €.
Here is the list from the original invoice:
Bunk bed 90 x 200 cm, beech (221B-A-01)
Oil wax treatment
Slatted slats
Protective boards for the upper floor
Ladder with handles
Slanted ladder for midi 3 height 87 cm pine honey-coloured
Knight's castle board for the site
Knight's castle board at the back
Knight's castle board on the face side
small shelf
Swing beams
Curtain rod set for front and front side
Curtains (purchased separately), only one is available.
All in all, it cost €1305.27. (purchased in 2006 + 2008 small shelf)
If necessary, we will be happy to include the mattress. It is very nice and "puller-free" with a thick velvety washable cover.
Together with the mattress we would like to have 400 € for it.
Self-collection only. We would dismantle the bed beforehand. The pick-up point is Jena on the A 4, near A 9.
The setup instructions as well as the invoices are available in the original. We will be happy to send you more pictures.
Comment:
Dear Billi Bolli Team,
with a little wistfulness we have sold our bed successfully today
Thank you very much!
Kerstin Schorcht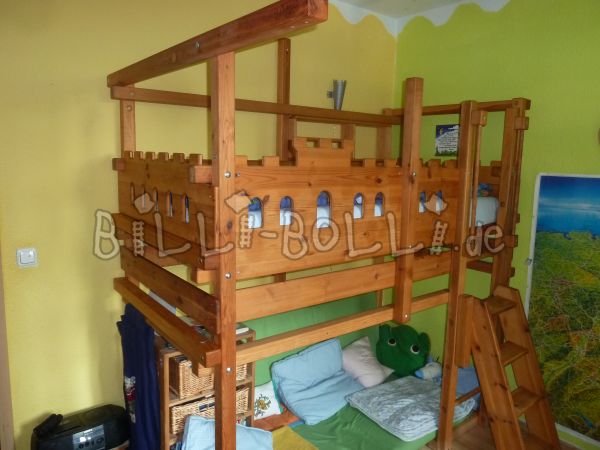 ---
Bunk bed offset on the side, spruce honey-coloured oiled
Offer 1383
. Published: 24 April 2014 (second hand bunk bed)
sold
Due to reconstruction, we have to sell our Billi-Bolli cot almost as good as new - only 1.5 years old!!
It is a bunk bed offset on the side, crane beams offset outwards (dimensions: L:307cm, B:102cm,H:228,5cm) with curtain system, the bed can also be converted to a bunk bed without extension.
Accessories: 2 berth boards, rocking rope, 2 bed boxes "Pirat", self-made curtain system, the mattresses are not sold
We bought the adventure bed in September 2012, then NP was 1850€!
It is in a new condition, without stickers, scribbles, with only minor traces of usage, has always been treated very carefully, the guys loved it!
Our price is 1400€ VB, at self-collection in Landsberg am Lech (Bavaria)
Invoice and instructions are available!
It is a private sale without warranty, without return and without warranty!
We would be happy to send you more pictures!
Comment:
Hello, the bed is already sold!
Thank you and greetings
Family Heine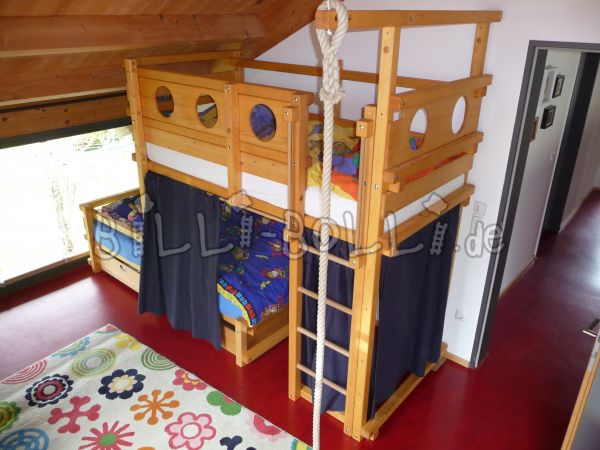 ---
Bunk bed with play platform
Offer 1382
. Published: 24 April 2014 (second hand bunk bed)
sold
We sell our Billi Bolli Adventure Pirate Bed, which has lived up to its name.
It is a bunk bed bought in 2003 (210F-02) made of spruce wood, surface oiled. The bed is well preserved (of course darkened and also a few traces of usage, but neither painted nor glued).
Our model has a slatted base and a playing floor. These are oiled boards that are inserted instead of the 2nd slatted slat and form a platform – either above, or L-shaped offset below (so we had modified it last time).
As with the bunk bed, there is a ladder with handles.
Other components are:
a steering wheel (oiled),
a long cross-beam for a climbing rope,
a climbing rope made of natural hemp,
a rocking plate for this rope,
a berth board (150 cm wide for the front),
a fall protection,
two bed boxes,
3 upholstery cushions covered with fabric
and curtain poles for two sides.
On request, the foam mattress 90x200 can also be added.
New price was 1,414 euros.
Our price presentation: 700 Euro (self-collection)
The cot has already been dismantled, a complete setup instruction is available. The setup is uncomplicated.
Location: Munich-East
Transport in a car is possible (the longest beam is 225 cm long, longitudinal beam 210 cm, corner post 195 cm)
It is a private sale without warranty, without return and without warranty.
Comment:
The bed is sold. Please mark the offer accordingly. Thank you very much!
By the way, I find the secondhand exchange a great service of your company!
Family Voigt-Müller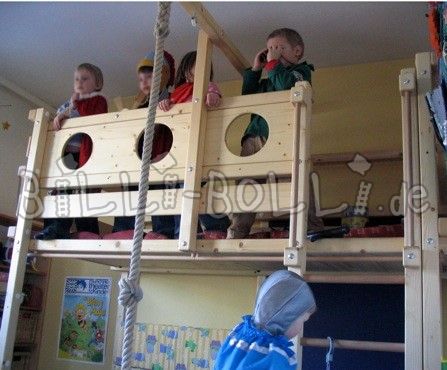 ---
Bunk bed
Offer 1381
. Published: 23 April 2014, sold: 25 April 2014 (second hand loft bed)
sold
Billi-bolli high bed/bunk bed for sale! Hamburg's outskirts (Ammersbek)
We offer our beloved cot for sale here. Unfortunately, due to the slants in the new house, we cannot take it with us. Our guys loved it. The bed is in a really good condition with normal signs of use.
Components:
Bunk bed Midi3
Slide tower with slide
Slip ears
Flat rungs for growing high bed
2 bed boxes (have not yet been assembled)
Failure protection grille for top
Handles on the ladder
two shelves for the beloved toys
6 Ritterburg side parts
Steering wheel
Crane
Swing
The adventure bed is from 2009 and had a new price of 2,550 € plus the game crane bought in 2012 (128.00 €) and steering wheel (40,00 €) so a total of 2,718,00 €
Our price is 1,300 €. The bed is still built and would have to be dismantled by the buyer.
We will still need mattresses and slatted frames. If you are interested, the bed can be visited.
Comment:
Dear Billi-Bolli Team,
the bed has just been sold. But it was quick :-) Thank you very much for the good service!!!
---
Conversion set from bunk bed to bunk bed-side-shifted
Offer 1380
. Published: 23 April 2014 (second hand loft bed)
sold
We sell a conversion kit from the loft bed to the side offset cot. The mattress size is 90cm/200cm. Ladder position A, cover caps: wood-coloured. The wood is untreated pine. The conversion bed was in use for about one and a half years and is very well preserved. All parts are complete. We are a non-smoking household without animals. Our price presentation is 100,- EUR for pick-up in Berlin-Pankow (near U-Bahn and S-Bahn). I have already dismantled the bed.
Our customer number is: 107562
Invoice date of purchase: 13.1.2011
Price at that time: 234,- EUR
Order number: 62040K-01
Comment:
Dear Billi-Bolli-Team,
the conversion kit has already been sold. Thank you very much for the good service!
Greetings from Berlin,
Joachim Weber
---
You have been searching patiently for a while now but to no avail?
Have you already considered buying a new Billi-Bolli bed instead? When you no longer need it, you too can use our successful Secondhand Page, completely free of charge. Thanks to the high resale value of our beds, you will get a good return on your purchase even after many years of use. For this reason, a new Billi-Bolli bed is, economically speaking, a very good investment.