---
Billi-Bolli-High bed made of beech wood
(Offer 1828)
Published: 31 August 2015 (second hand loft bed)
sold
We sell, because of moving, our Billi-Bolli-high bed made of beech wood (oiled with eco-oil) in 200 x120cm
including: - slatted base
- Hemp rope swing
- Slide
- Crane arm with hook
- Steering wheel
and 2 shelves (one above, one below).
The bed is from 2011 and in used but good condition (see photos)
It gave us a lot of joy and always provided enough space and space for adventure for our two children (now 5 and 7).
The bed has already been dismantled and can be picked up in Berlin.
The new price was about 2200€ (without mattress) and we imagine a resale price of about 1600€.
Comment:
Hello to Billi-Bolli.
We have our bed, which was set at you under number 1828
successfully and ask to remove the ad.
Thank you for the support and best greeting.
Christian Müller.
---
Billi-Bolli-Etagenbettbett including knight's castle boards and fire brigade pole
(Offer 1827)
Published: 27 August 2015, sold: 28 August 2015 (second hand loft bed)
sold
We sell our beloved Billi-Bolli bunk bed. The growing Billi-Bolli-Highbed dates back to 2010, which we converted into a bunk bed in March 2014 (original invoices available).
Data:
* Bunk bed 100 cm x 200 cm lying area
* External dimensions L 211 cm x W 112 cm x H 228.5 cm (W with fire brigade rod 142 cm, W with crane beam 162 cm)
* Pine with oil wax treatment
* additionally knight's castle boards at the front and on both end faces as well as fire brigade rod (ash)
* Assembly instructions and remaining screws, nuts and cover caps available
* used with appropriate traces of usage, but good condition without stickers, paintings or similar, but small boreholes from attaching the fall protection boards to a lower level and from a night lamp
* without giving up mattresses and decoration
* animal-free non-smoking household
* NP € 1,531 for the loft bed and NP € 421 for the conversion kit to the bunk bed
* Location: Potsdam
* The bed is built up, can be visited and should be dismantled yourself - then the reconstruction is easier - we are happy to help.
* Sales price: € 950,00
* This is a private sale, therefore no warranty and no withdrawal.
Comment:
The bed is sold and already picked up. Please mark on your website as sold.
Thank you & best regards,
Fam. Mende
---
Slanted ladder to give away
(Offer 1826)
Published: 25 August 2015 (second hand kids' furniture)
sold
from the sale of our Billi-Bolli-bed a staircase remains. We no longer need them, but it is too bad to throw them away. That's why we want to give them away.
To give away to self-collectors. The stairs are about 100 cm high, 37 cm wide, the steps are 20 cm deep.
Comment:
Dear Billi-Bolli-Team,
Thanks for setting - the stairs already have a new owner.
Greetings from Dreieich
Pia Tanaka
---
Mitwachsendes Hochbett, Fichte ölwachsbehandelt
(Offer 1825)
Published: 25 August 2015 (second hand loft bed)
sold
Leiterposition A
Bettmaße: B: 90 cm x L: 200 cm, Außenmaße: L: 211 cm, B: 102 cm, H: 228,5 cm.
Incl. Lattenrost, Schutzbretter für die obere Etage, Haltegriffe
Zubehör:
- 1 Kojenbrett Fichte geölt, 150 cm, vorne
- 1 Kojenbrett Fichte geölt , 90 cm, stirnseitig
- 1 kleines Regal B: 91 cm x H: 26 cm x T: 13 cm, Fichte geölt
- 2 große Bettregale H: 91 cm x B: 108 cm x T: 18 cm Fichte geölt
Das Das Bett wurde im Jahr 2007 gekauft (Originalrechnung vorhanden), die Zubehörteile wurden teilweise später nachgekauft.
Zustand:
Das Bett wurde gut bespielt und hat entsprechende Gebrauchsspuren. Das Holz weist an einigen Stellen Farbunterschiede durch Nachdunkelung auf. Da mein Sohn Aufkleber am Bett angebracht hatte, erkennt man auch hier die Farbunterschiede und einige Aufkleberrückstände. Es befinden sich ein paar Schraublöcher im Holz, da wir einen Kran und ein Lenkrad am Bett angebracht hatten. Diese Teile sind aber nicht mher vorhanden. Vorbohrungen zum nachträglichen Anbringen der Kletterwand sind vorhanden. Die obere Schaukelbalken wurde abgebaut, ist aber natürlich auch vorhanden.
Der Schreibtisch wird nicht mitverkauft.
Das Bett kann in 82256 Fürstenfeldbruck abgeholt werden. Es kann entweder selbst abgebaut werden, oder auf Wunsch wird das Bett auch von uns abgebaut. Das Bett und die Zubehörteile können auf Anfrage ggf. auch einzeln abgegeben werden.
Verkaufspreis für das Bett incl. aller Zubehörteile: 420,00 Euro.
Comment:
Hallo liebes Billi-Bolli Team,
das Bett wurde bereits verkauft. Das ging super schnell.
Vielen Dank nochmal für die Mühe.
Viele Grüße
Nadja Lübeck
---
Three-bed side-offset
(Offer 1824)
Published: 25 August 2015 (second hand kids' furniture)
sold
Wir möchten unser sehr geliebtes Dreier-Bett-seitlich-versetzt verkaufen. Das Bett ist 3 Jahre alt und die Matratzengröße beträgt 190x90 cm. Die Gesamtmaße sind ca. 292/112/196 cm und es handelt sich um ein Bett aus Kiefer unbehandelt das von uns noch weiß gestrichen wurde. Es hat ein paar kleinere Gebrauchsspuren und müsste evtl. an manchen Stellen nachgestrichen werden. Der NP lag bei 1624 € und wir hätten gerne noch 1000 € dafür, da es sich um ein weißes Bett handelt und nicht um die unbehandelte Variante.
Comment:
Sehr geehrte Frau Eckert,
unser Bett ist jetzt verkauft.
Viele Grüße
Nicole Manco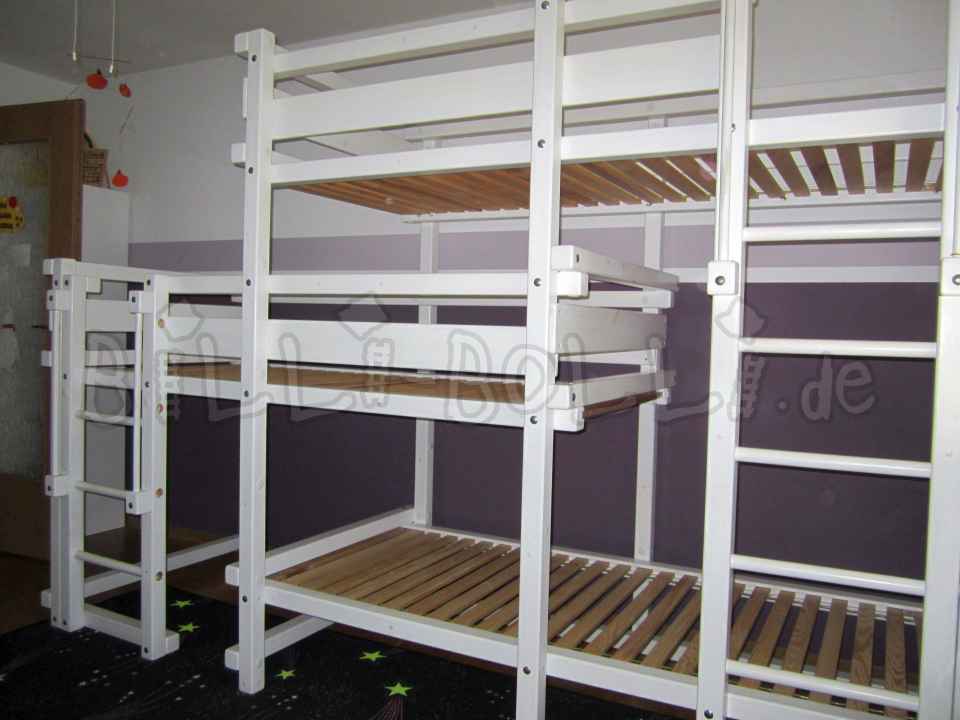 ---
Growing bunk bed made of pine
(Offer 1820)
Published: 20 August 2015, sold: 23 August 2015 (second hand loft bed)
sold
Wir verkaufen unser 2009 gekauftes Billi-Bolli mitwachsendes Hochbett in den Maßen 90 x 200cm.
Das Holz ist unbehandelte Kiefer. Über die mitwachsende Funktion kann man sich unter
https://www.billi-bolli.de/kinderbetten/hochbett-mitwachsend/ erkundigen. Ich meine, das Bett kann mit weiteren Billi-Bolli-Spielelementen versehen werden. Der Neupreis war € 897,-. Das mitwachsende Hochbett wurde 2009 angeschafft. Das Bett hat leichte Gebrauchsspuren. Als Spielelement kann ein Steuerrad angebracht werden. Es ist ein umweltschonend produziertes Kindermöbel aus Vollholz aus nachhaltiger Forstwirtschaft.
Optional kann ein kleines Sofa (1,45 x 0,70) mit Schlaffunktion mit erworben werden; der Preis ist dann 400€.
Preis: 350 Euro
mit Sofa (1,45 x 0,70) mit Schlaffunktion: 400 Euro
Standort:
12159 Berlin
Comment:
vielen Dank! Das Bett ist verkauft.
Gruß K MAtthias
---
Hochbett, 90 x 200 cm, Fichte geölt
(Offer 1816)
Published: 19 August 2015, sold: 20 August 2015 (second hand loft bed)
sold
L 211cm B 102 cm H 228,5 cm
Zubehör:
- Lattenrost
- Schutzbretter für obere Etage
- Haltegriffe
- Kletterseil, Naturhanf
- Schaukelteller, geölt
- Inkl. aller Schraubverbindungen und Abdeckkappen (holzfarben)
2008 für Neupreis von 850,- EUR gekauft (zzgl. Rutsche). Verkaufspreis: 550€
Das Bett hat normale Gebrauchsspuren und steht ohne Matratze und Rutsche (Rutschenöffnung an der kurzen Seite aber vorhanden) zum Verkauf.
Das Bett ist bereits abgebaut und steht zur Abholung bereit. Alle Balken sind gekennzeichnet, und eine Aufbauanleitung ist vorhanden.
Standort: Leipzig, 04275
Comment:
Hallo Billi Bolli Team,
das Bett ist verkauft.
Danke und viele Grüße aus Leipzig
A.Niebisch
---
Mitwachsendes Billi-Bolli-Hochbett 90 x 200cm, geölt-gewachste Buche
(Offer 1815)
Published: 19 August 2015 (second hand loft bed)
sold
Wir verkaufen unser Hochbett aus geölt-gewachster Buche mit den Abmessungen 90 x 200 cm, das wir im Jahr 2010 neu gekauft haben.
Zubehör / Details
- zwei Kojenbretter,
- ein Steuerrad,
- ein Schaukelteller mit Kletterkarabinerhaken,
- Vorhangstangen,
- ein großes Regal und
- ein kleines Regal für die Bettlektüre, etc.
Das Bett weist leichte Gebrauchsspuren auf und ist insgesamt in sehr gutem Zustand. Wir sind ein Nichtraucherhaushalt und haben keine Haustiere.
Wir verkaufen das Bett an Selbstabholer. Das Bett ist aufgebaut und kann besichtigt werden. Wir sind gerne behilflich beim Abbau oder es kann zerlegt abgeholt werden.
Der Kaufpreis im Jahr 2010 betrug rund 2000 € und wir möchten das Bett gerne für 1100 € (VB) verkaufen.
Comment:
Liebes Billi-Bolli-Team,
das Bett ist bereits verkauft. Vielen, lieben Dank für die Unterstützung. Wir freuen uns sehr, dass es in so gute Hände gekommen ist.
Viele Grüße,
Fam. Bösing
---
Hochbett Fichte, unbehandelt
(Offer 1813)
Published: 17 August 2015 (second hand loft bed)
sold
Wir verkaufen unser Billi-Bolli-Bett mit viel Zubehör aus dem Jahr 2003.
221F-01 Hochbett Fichte, unbehandelt
100 x 200 cm
incl. Lattenrost, Schutzbretter für obere Etage, Haltegriffe
Außenmaße etwa BxTxH 211x124x191 (ohne Kran), 211x124x225 (mit Kran)
Zubehör:
310F-01 Steuerrad, unbehandelt
320 Kletterseil, Naturhanf
342-01 Vorhangstangenset, unbehandelt
354-01 Kran, unbehandelt
360-01 Schaukelteller, unbehandelt
375-01 kleines Regal, unbehandelt
510 Maus, 2 Stück
570F-01 Mäusebrett vorne
573F-01 Mäusebrett Seite
Der Zustand ist gut mit normalen Gebrauchsspuren, das Bett sowieso unkaputtbar. Bei Renovierungen wurde es dreimal ab- und aufgebaut - ohne die mittlerweile nicht mehr auffindbare Anleitung. Die Originalrechnung (€ 1.102,-) ist noch vorhanden. Der Kran wurde nie benutzt und stand im Keller. Hier sind deutliche Farbunterschiede zu dem im Sonnenlicht veränderten naturbelassenen Holz. Unter dem Hochbett stand zweitweise ein Schreibtisch, später ein Sofa/Gästebett. Der Raum darunter lässt sich also flexibel nutzen.
Verkauf nur an Selbstabholer. Standort ist Winnweiler, Nähe Kaiserslautern. Vorab-Besichtigung nach Absprache möglich. Gerne sende ich weitere Fotos per mail. Der Abbau kann vorbereitet werden oder nach Absprache gemeinsam erfolgen.
Festpreis: 550 Euro
Comment:
Liebes Billi-Bolli-Team,
unser Bett wurde Ruckzuck verkauft. Vielen Dank für Ihre Mithilfe.
Viele Grüße,
Familie Riedt
---
Billi-Bolli Jugendliege KieferTyp A, 200 x 100
(Offer 1812)
Published: 17 August 2015 (second hand kids' furniture)
sold
mit Lattenrost und zwei Bettkästen (einer ohne Rollen), ohne Matratze, ca. 15 Jahre alt, halb zerlegt (Aufbau einfacher), guter Zustand, gegen Abholung in München-Obermenzing, nur 70 EUR
Comment:
Hallo Herr Orinsky,
unser Bett unter der Second-Hand Nr. 1812 haben wir längst verkauft, ich hatte es versäumt, es Ihnen mitzuteilen! Entschuldigung und alles Gute für Sie und Ihr Unternehmen!
Christoph Blaumer
---
You have been searching patiently for a while now but to no avail?
Have you already considered buying a new Billi-Bolli bed instead? When you no longer need it, you too can use our successful Secondhand Page, completely free of charge. Thanks to the high resale value of our beds, you will get a good return on your purchase even after many years of use. For this reason, a new Billi-Bolli bed is, economically speaking, a very good investment.