Strong 57 × 57 mm beams, cleanly sanded and rounded

Solid wood from sustainable forestry, of course pollutant-free

Living surface that breathes and therefore contributes to a healthy indoor climate
Our kids' furniture is available in two types of wood:
Pine
Very good wood quality. Pine has been proven to be an excellent choice in the production of beds for hundreds of years. It has more of a lively appearance than beech. Recommendation: oil-waxed surface.

Beech
Hardwood, only premium quality selected. Appearance more uniform than pine. Recommendation: oil-waxed surface.
The standard surfaces are:
untreated

oil-waxed with Gormos (manufacturer: Livos)
The wood is protected through the oil-wax and dirt can no longer seep in.

oiled with honey colour (manufacturer: Leinos)
This oil highlights the natural structure of the wood, the appearance becomes more reddish and lively. Only possible with pine.
We also offer coloured varnish or coloured glaze as desired:
colour varnish: opaque colour, type of wood is no longer recognizable

colour glaze: wood grain shows through
We only use water-based and saliva proof colours.
We apply oil-wax instead of colour by default to the ladder rungs and handles if the bed is ordered varnished or glazed.
The extra charge for the surface treatment includes the following colours that are ordered frequently:
If you would like to have a colour that is not listed here, simply specify the RAL number. We will then order the colour and add an extra charge. Any remaining colour will be sent to you upon delivery.
Note: Grain and colour may differ from the examples shown here. Different monitors may also display the colours differently.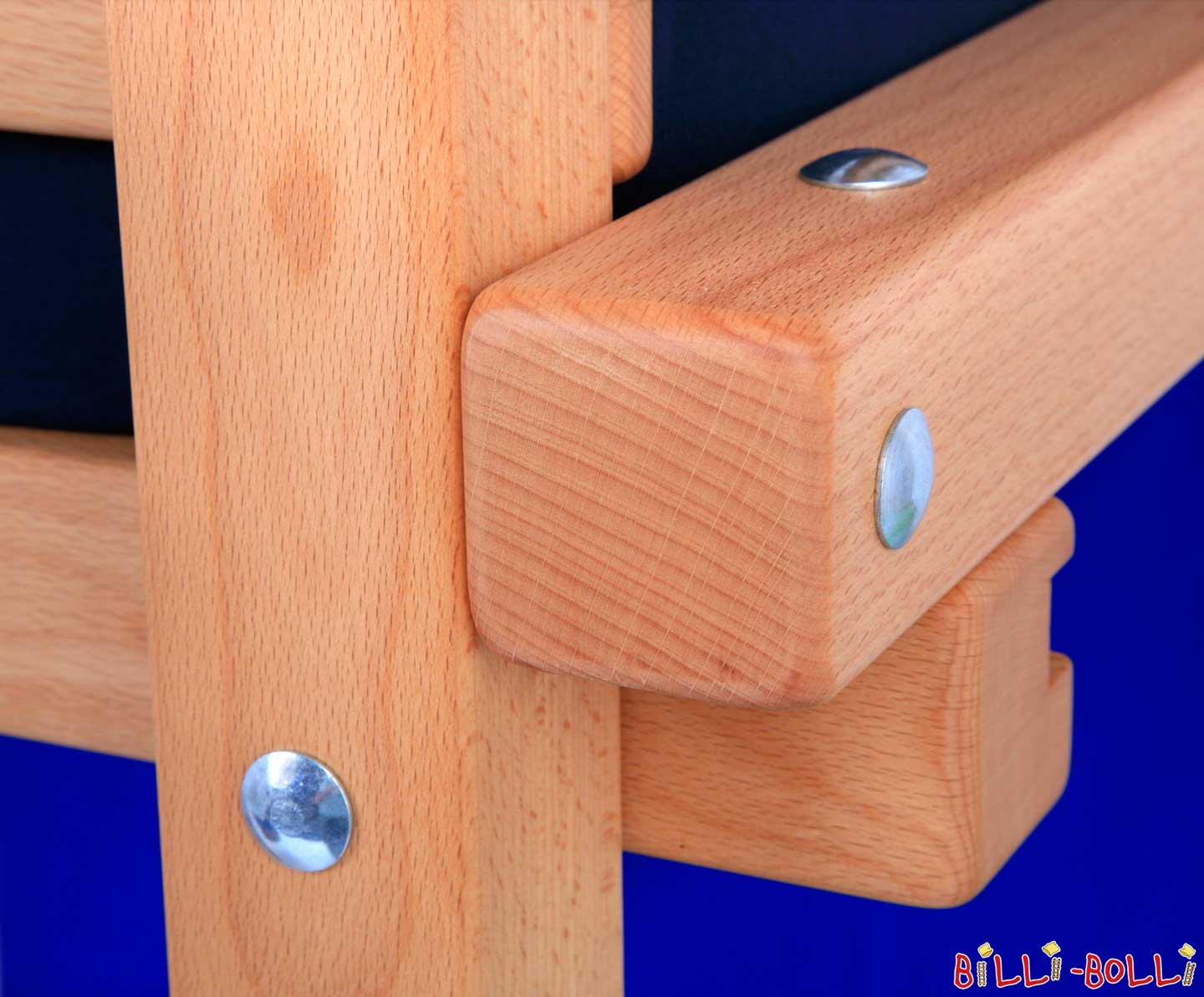 Detail of a beam connection (here: beech beams).
All beams are made of one piece of wood, with no glued joints.
At request, we will send you wood samples (free of charge).