No longer need your kids bed? On this page you can put your used kids furniture and accessories from Billi-Bolli up for sale. This is free of charge for those who purchased new from us. (There is a € 50 fee* to sell Billi-Bolli kids furniture already purchased second hand.)
You may also offer your used original Gullibo bed (no replica) up for sale. When you purchase one of our kids beds, you also have the opportunity to place a free offer for your cot or baby crib that is no longer needed – also from other manufacturers – on this high-traffic webpage.
* Fees only apply to Gullibo beds and beds that were bought second hand and entirely go towards our
charitable projects
.
Notes
The offers on our Secondhand Page have been translated using an automated program and therefore may contain translation errors. We take no responsibilities for these errors or misunderstandings arising from them. Please visit the second hand page on our German website to view the offers in their original language.

We take no responsibility for the information relating to the kids furniture posted for sale by customers, as it cannot be verified by us. Billi-Bolli Kids Furniture is not involved in resulting sales. Assessing whether an offer is reasonably priced or not must therefore be done by the interested party. Such assessment cannot be made from the fact that the item is placed on our Secondhand Page.

Please note that for Gullibo kids beds we cannot deliver accessories or expansion parts. So if you are planning expansions of the bed, we recommend a Billi-Bolli bed.
Want to stay up-to-date on new offers?
Receive an email as soon as a new secondhand offer has been posted:
---
Bearing parts
This point includes various used items, exhibits and backscatter, partly with traces of use. Shipping costs vary and may we be. * firetruck for mattress length 200 cm, painted. Two small cracks in the paint to a window (see photo), but can be attached to the bed with this page so that cracks are not visible. 200 EUR (instead of EUR 320) * 2 bunk boards for long + a short page for mattress size 100 x 200 cm, beech green glazed. 150 EUR (instead of EUR 225) * mouse Board 112 cm, low for the short side at youth bed type 1 with mattress width 100 cm (side bar W5 in be not then incorporated), pine 20 EUR (instead of EUR 77) oil, * flower Board beech white lacquered, for the half long side of the bed. Big flower pink, two small flowers yellow + blue. 90 EUR (instead of EUR 157) mistakes (E.g. error concerning dimensions or State), transport damage or non-discoverability offered here parts lead to refund any prepaid, but not to new production or purchase of the items at a discounted price.
Contact:
info@billi-bolli.de
+49 8121 - 2 50 85-0
---
Floors-youth bed
Offer 1832 (Kids furniture second hand). Placed on 31 August 2015
We want to sell our floors-youth bed.
Bed cost 1.301,00 EUR plus according to the invoice of the 13.12.2013 120,00 EUR oil wax treatment and bed box 170,00 EUR, i.e. EUR 1.591,00.
Our price is 1.400,00 EUR.
The bed can be picked up at 12589 Berlin.
It has hardly any wear and is delivered with matching mattresses.
The deck surface is 140 x 200.
Contact:
Telefonnummer: 0173/9879675 oder E-Mail karheu@gmx.de
---
Bunk bed
Offer 1831 (Kids furniture second hand). Placed on 31 August 2015
We sell our growing with high bed "Knight's Castle" spruce oil waxed in 2008.
100 x 200 cm incl. protective boards slatted top grab handles external dimensions: L: 211 cm, B: 112 cm, H 220 cm (abbreviated WG. low ceiling height. The functionality is of course not affected. We can gladly send pictures of the concerned bar if you are interested email) head position: A covers: pink accessories: 2 Knight Castle Board front page 112 cm 1 Castle Board 91 cm for front with Castle 1 Castle Board 42 cm 2 part for front fire rod from ash steering wheel, red painted small shelf curtain rod set for M width 3teilig (blinds are not original, but included in the price on request) the mattress does not belong to this offer!
The bed is in good condition and has normal wear.
It is a non-smoking household.
It is still built (currently in the sky bed version) and it would make sense if the buyer would dismantle the bed when you pick yourself up (we of course like to help), then easier to rebuild it. (The original Assembly manual is still available).
The new price was in 1469, - EUR (original invoice available) our price is 950, - EUR the bed can be picked after appointment in 64347 Griesheim near Darmstadt.
Contact:
Familie Ohl
0175 5666408
anja.ohl@tts-da.de
---
Billi Bolli bunk bed / bunk bed
Offer 1830 (Kids furniture second hand). Placed on 31 August 2015, sold on 31 August 2015
sold
Because our guys find it not more age-friendly, we want to sell our proven Billi Bolli Loft bed or bunk bed. We bought it new in 2004 to EUR 1,500.00; the original invoice is available. Later we bought after still bed drawers and a shelf.
Bed is in good condition with wear, E.g. adhesive smaller labels, drill holes for the mounting of fall protection and the shelves. The wood is dark after significantly. The ladder was professionally cut to make room later for the two bed drawers. The rope should be replaced by the buyer because it "little on beneath the node".
Head pillows, rope plate and large shelf also included, although not on the image to see. The bed is mined from the 31.08.2015 due to pending renovations. Assembly instructions are the markings of the wood elements, mostly.
Screws are completely, as the screw caps, we never used.
The data: * high bed spruce, oiled * conversion set for the bunk bed * two slats * two bunks * a big and and two small shelves * bunk Board * fall protection * overhead crane beams, rope (see comment above), rope plate * Prolana head pillow * bed 90 x 200 cm * sale price: 200,00 EUR (fixed price) * sales without decoration and bedding * on request we give the two matching, well-preserved mattresses (Röwa) free.
* Non-smoking budget, no pets * pick up in Esslingen 73732 * this is a private sale, therefore no warranty and no returns.
Feedback:
Dear Billi Bolli team, we have sold the bed on the family, which had signed up today early first.
Please, select the display as expired.
Thank you and best regards, Susanne Ott and Thomas Hein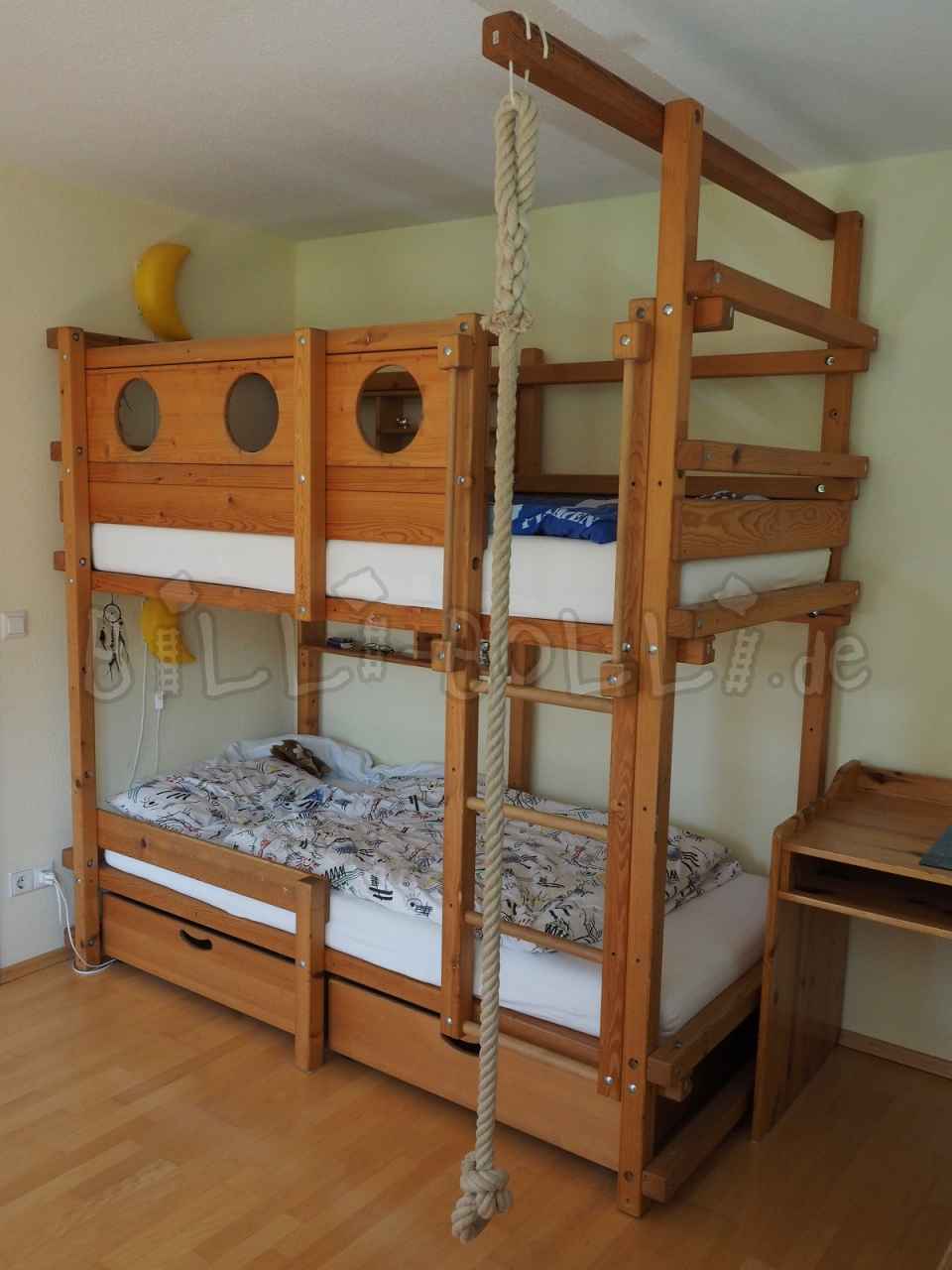 ---
Billi-Bolli - high bed 100x200cm, pine glazed white pink
Offer 1829 (Kids furniture second hand). Placed on 31 August 2015
We sell our bunk bed made of pine, white/pink stained, 100x200cm which we have purchased new in 2013.
Accessories/detail - high bed, 100x200cm, pine, all-inclusive slatted, protective boards for upper floor, handholds, ext 211L,112B, 228,5H, a position of head of, covers white - flat rungs, pink glazed (beech) - pink glazed bunk boards for front grab handles -, front and rear (2 shared), pink glazed - rocking plate, pink glazed - rope made of cotton (2, 50 m L) the bed has slight traces of usage and is overall in very good condition. We are a non-smoking household no pets.
We sell to pickup bed, it is structured and can be visited. We are happy to assist you in reducing or it can be picked, partially assembled, we give the mattress if desired, like this.
The purchase price was around 2000EUR in 2013, the original receipt still exists, we would like to sell the bed for 1400EUR.
Contact:
Anke Rother
anke.rother@gmail.com
0151-42635016
64823 Groß-Umstadt
---
Billi Bolli bunk bed made of beech wood
Offer 1828 (Kids furniture second hand). Placed on 31 August 2015
We sell due to moving, our Billi Bolli bunk bed made of beech wood (oiled with eco oil) in 200 x120cm including: - slat - hemp rope swing - slide - crane arm with a hook - wheel and 2 shelves (one up, one down).
The bed is from 2011 and in used but good condition (see photos) it brought us much joy and always sufficient space and room for adventures for our two children (now 5 and 7) available.
The bed is already dismantled and can be collected from us in Berlin.
The new price was ca 2200EUR (without mattress) and introducing us to a resale price of ca 1600EUR.
Contact:
---
Billi Bolli bunk bed Castle boards plus the fire rod
Offer 1827 (Kids furniture second hand). Placed on 27 August 2015, sold on 28 August 2015
sold
We sell our beloved Billi Bolli bunk circumstances. The growing Billi Bolli bunk bed comes from the year 2010, we have rebuilt in March 2014 to the bunk bed (original invoices available).
Data: * bunk bed 100 x 200 cm bed * dimensions L 211 cm x W 112 cm x H 228.5 cm (B with fire Rod 142 cm, B with jib 162 cm) * pine oil wax treatment * in addition Castle boards front and on both sides, as well as fire rod (ASH) * Assembly instructions and remaining screws, nuts and caps available * but good condition without stickers, paintings, or similar used with appropriate wear , but small holes by attaching the case protective boards at a lower level and by a night lamp * to submit without mattresses and decoration * animal-free non-smoking household * NP EUR 1.531 for bunk beds and NP EUR 421 for the conversion set for the bunk bed * location: Potsdam * bed is built up, can be seen and should be dismantled even - then the reconstruction easier - we like to help.
* Sale price: EUR 950,00 * this is a private sale, therefore no warranty and no returns.
Feedback:
The bed is sold and already picked. Please mark on your Web site as sold.
Thank you & best regards, fam. Mende
---
Angle head to give away
Offer 1826 (Kids furniture second hand). Placed on 25 August 2015
sold
a staircase is left from the sale of our Ballantyne Billi bed. We no longer need it, but it is too good to throw away. That's why we want to give them away.
To give away to pickup. The staircase is about 100 cm high, 37 cm wide, 20 cm deep, the stages are.
Feedback:
Dear Billi Bolli team, thank you for setting - the staircase has already a new owner.
Greetings from Dreieich Pia Tanaka
---
Sparse Loft bed, pine oil wax treated
Offer 1825 (Kids furniture second hand). Placed on 25 August 2015, sold on 25 August 2015
sold
Head position A bed sizes: B: 90 cm x L: 200 cm, outer dimensions: L: 211 cm, B: 102 cm, H: 228.5 cm. including slatted, protective boards for the top floor, handholds Accessories:-1 bunk Board spruce oil, 150 cm, front - 1 bunk Board spruce 90 cm, oiled, front - 1 small shelf B: 91 cm x H: 26 cm x d: 13 cm, spruce oiled - 2 large bed shelves H : 91 cm x B: 108 cm x d: 18 cm spruce which oiled the bed was bought in 2007 (original invoice available), the accessories were purchased later.
Condition: The bed was played well and has appropriate wear. The wood has in some places color differences by Nachdunkelung. Because my son had attached labels to bed, you can see here the color differences and some sticker residue. There a few screw holes are in the wood, because we had mounted a crane and a steering wheel on the bed. These parts are, but ever present Peter. Pilot holes for the subsequent attachment of the climbing wall are available. The top swing beam was mined, but of course also exists.
The desk is not sold.
The bed can be picked up at 82256 Fürstenfeldbruck. It can be dismantled either by himself, or on request, the bed is broken down also by us. The bed and the accessories can be dispensed may also individually on request.
Sale price for bed incl. all accessories: 420,00 euro.
Feedback:
Hello dear Billi Bolli team, the bed was sold already. That was super fast.
Thank you again for the effort.
Many greetings Nadja Lübeck
---
Three-bed side places
Offer 1824 (Kids furniture second hand). Placed on 25 August 2015
We are looking to sell three bed laterally offset our very beloved. The bed is 3 years old and the mattress size 190 x 90 cm. The total mass are approx. 292/112/196 cm and it's around a bed of pine untreated that has been removed yet white from us. It has some minor wear and should to be deleted may at some points. The NP was 1624 EUR and we would still like to 1500 EUR for this, because it's a white bed and not to the untreated variants.
Contact:
Nicole Manco
72574 Bad Urach
Tel.: 07125/933993
Handy: 0176/64263860
E-Mail: lamanco@gmx.de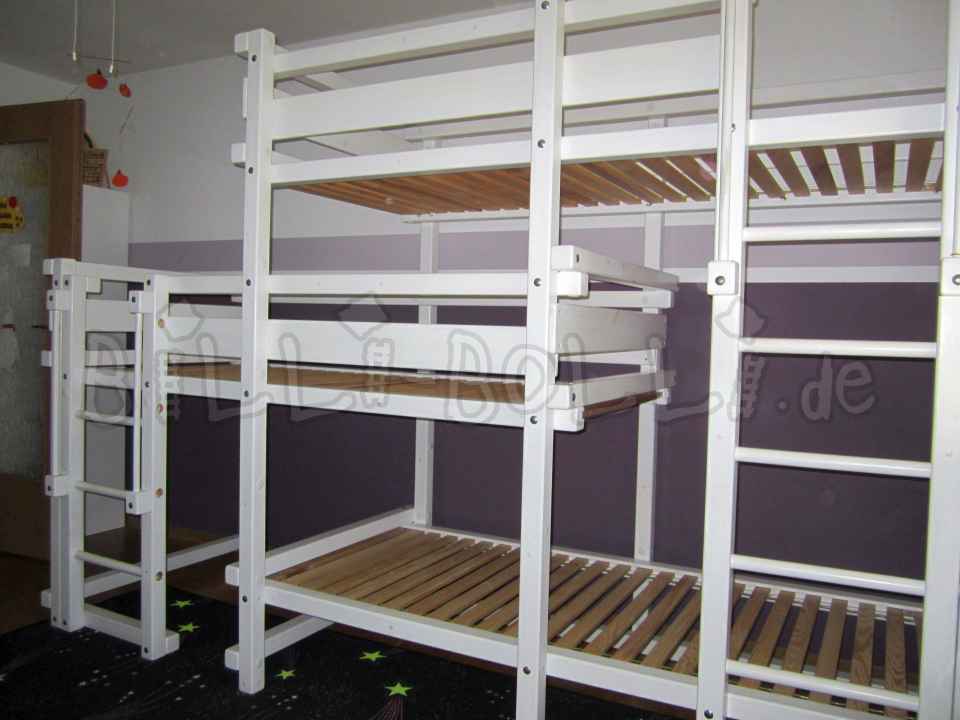 ---
Student bunk bed 90 x 200, beech untreated
Offer 1823 (Kids furniture second hand). Placed on 24 August 2015
I am selling a student bunk bed 90 x 200 cm, beech untreated, dimensions l: 211 cm, B: 102 cm, H: 228.5 cm; A Director position, and 2 x small shelf, oiled beech.
The bed was purchased new in July 2010 at a price of 1,100 EUR and stands in Stralsund (Mecklenburg-Vorpommern) in a household of no smokers and no pets.
It is no longer used since 2013. Original invoice and instructions are available.
For pickup.
The retail price is EUR 690.
(The custom-made wardrobe with sliding doors in Beech veneer is also no longer needed and can be taken by the buyer if you are interested.)
Contact:
Christian Zorn
chzhst@freenet.de
0172-5218507