No longer need your kids bed? On this page you can put your used kids furniture and accessories from Billi-Bolli up for sale. This is free of charge for those who purchased new from us. (There is a € 50 fee* to sell Billi-Bolli kids furniture already purchased second hand.)
You may also offer your used original Gullibo bed (no replica) up for sale. When you purchase one of our kids beds, you also have the opportunity to place a free offer for your cot or baby crib that is no longer needed – also from other manufacturers – on this high-traffic webpage.
* Fees only apply to Gullibo beds and beds that were bought second hand and entirely go towards our
charitable projects
.
Notes
The offers on our Secondhand Page have been translated using an automated program and therefore may contain translation errors. We take no responsibilities for these errors or misunderstandings arising from them. Please visit the second hand page on our German website to view the offers in their original language.

We take no responsibility for the information relating to the kids furniture posted for sale by customers, as it cannot be verified by us. Billi-Bolli Kids Furniture is not involved in resulting sales. Assessing whether an offer is reasonably priced or not must therefore be done by the interested party. Such assessment cannot be made from the fact that the item is placed on our Secondhand Page.

Please note that for Gullibo kids beds we cannot deliver accessories or expansion parts. So if you are planning expansions of the bed, we recommend a Billi-Bolli bed.
Want to stay up-to-date on new offers?
Receive an email as soon as a new secondhand offer has been posted:
---
Bearing parts
This point includes various used items, exhibits and backscatter, partly with traces of use. Shipping costs vary and may we be. * firetruck for mattress length 200 cm, painted. Two small cracks in the paint to a window (see photo), but can be attached to the bed with this page so that cracks are not visible. 200 EUR (instead of EUR 320) * 2 bunk boards for long + a short page for mattress size 100 x 200 cm, beech green glazed. 150 EUR (instead of EUR 225) * mouse Board 112 cm, low for the short side at youth bed type 1 with mattress width 100 cm (side bar W5 in be not then incorporated), pine 20 EUR (instead of EUR 77) oil, * flower Board beech white lacquered, for the half long side of the bed. Big flower pink, two small flowers yellow + blue. 90 EUR (instead of EUR 157) mistakes (E.g. error concerning dimensions or State), transport damage or non-discoverability offered here parts lead to refund any prepaid, but not to new production or purchase of the items at a discounted price.
Contact:
info@billi-bolli.de
+49 8121 - 2 50 85-0
---
Sparse Loft bed, pine honey oil, 100 x 200 cm
Offer 1801 (Kids furniture second hand). Placed on 30 July 2015
We have purchased new bed end of 2005. It is in perfect condition, is in a non-smoking household, built only once and has no damage, but normal game and wear.
Included as an accessory: bunk boards front and on both sides natural hemp rope swing plate steering wheel Spring mattress (can love with acquired be) the original Assembly manual with parts list is available.
There are all at that time supplied accessories (screws, screw caps, additional rung).
The bed is built yet and can be reduced depending on the request jointly or by us.
The new price of EUR 1044,-.
Our asking price is €550,-.
The bed can be picked up in 45138 Essen.
Contact:
Familie Rudat/ Stapenhorst
0151/53721470
uwe.rudat@gmx.de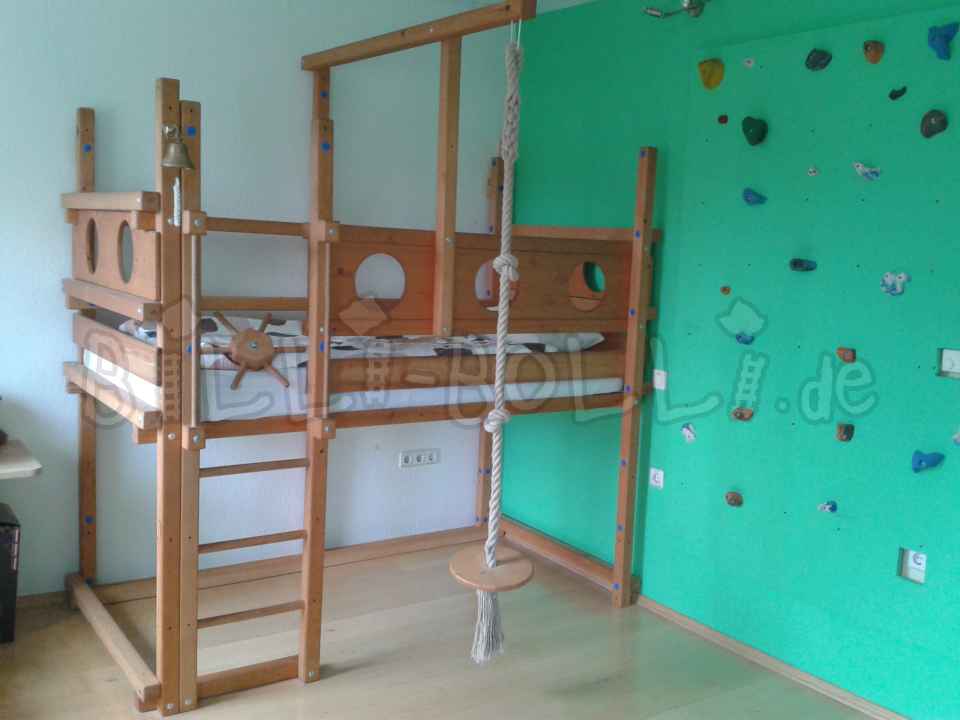 ---
Baby twins and wire mesh for sale
Offer 1800 (Kids furniture second hand). Placed on 30 July 2015
We have rebuilt and following in 2013 purchased accessories to make: baby twins 102 cm tightly screwed in front of baby twins 90 cm front removable baby twins 90 cm wall side removable baby mesh 90 cm mattress removable at MIDI 3 height adjusted (for NP 152EUR sale for 100EUR) Leitergitte for printed circuit (NP 29EUR on sale for 20EUR) everything in spruce, untreated and in very good condition.
Including all the accessories (angle & screws), we are a pet free non-smoking household.
Contact:
Frau Cécile Offenhäuser
Gaußstraße 36
70193 Stuttgart
Tel. 0711-9123788
---
Original oiled Billi Bolli bunk beds, pine 100 x 200 cm
Offer 1799 (Kids furniture second hand). Placed on 29 July 2015, sold on 31 July 2015
sold
We sell our bunk bed spruce oil waxed in 2007.
100 x 200 cm incl. 2 bed slats protective boards above grab bars dimensions: L: 211 cm, B: 112 cm, H 220 cm head position: A sliding position: C (front side) caps: Blue Accessories: slide 2 bunk boards fall protection game crane fire Rod steering wheel rope / swing plate (blue) Blue game foam mattress (above) 97 x 200 x 10 cm, cover washable small shelf curtain rod set for M width 3teilig (blinds are not original, but included) the mattress out of the lower bed does not belong to this offer!
The head and the fire Rod have blue game marks/signs of wear from the swing plate.
The bed is in good condition and has normal wear.
It is a non-smoking household.
It is still built (up on the slide and the crane) and it would make sense if the buyer would dismantle the bed when you pick yourself up (we of course like to help), then easier to rebuild it. (The original Assembly manual is still available).
The new price was in 1851, - EUR (original invoice available) is our asking price 1150, - EUR
Feedback:
Hello dear Billi Bollli team, I wanted to inform you that our bed had just been taken.
Thank you for BB´s set!
Anja OHL
---
High bed growing with, 100 x 200 cm, pine & conversion set youth bed
Offer 1798 (Kids furniture second hand). Placed on 29 July 2015
We sell a 7-year-old sparse Billi Bolli bunk bed in very good condition with a few signs of wear. We separate us very reluctant to it and would buy again and again the bed. In the beginning, we had the bed on the lowest setting. And we've built it higher in the current years. Finally, it was converted to a low bed.
We are a non-smoking household and have no pets.
The bed is placed in 51373 Leverkusen.
The following things are about: bunk beds, mattress size 100 x 200 slat are protective boards for the upper floor of Castle Panel Manager handles installation instructions, all necessary screws, nuts, washers, lock washers and Cap.
There is only the original invoice of the tag sets. Billi Bolli has saved but us as a customer.
Price: approx. 1200EUR (2007) plus conversion set 100EUR (2013) selling price: 1000EUR
Contact:
Familie Mohr
Dresdener Str. 11
51373 Leverkusen
Tel: 0174-3475328
familie.mohr@gmail.com
---
Team bed with simple fall protection, pine oiled / waxed
Offer 1797 (Kids furniture second hand). Placed on 28 July 2015
Team bunk bed measures (in cm) 210 length, 102 width and height of 125. Matratzenmaße 90 x 190 cm.
Deck height is head on 108 cm. on the front side. A small shelf on the headboard will be offered.
Two guards on the photo does not belong to the bed, will be sold separately.
Replacement bed: approx. 914,-EUR replacement mattress: 160,-EUR (7 zones of comfort foam mattress, cover removable and washable, suitable also for adults) purchased we have's 2009 wear but no damage.
We would want to have like 700,-EUR for everything.
Bed can be immediately up to the 20.8.2015 like to by the buyer on the spot to be dismantled. What certainly facilitates the construction.
Baby twins are sold separately: 2 baby twins for Billi-Bolli beds, pine oiled / waxed for sale 139 cm (3/4 mesh to the head) and 102 cm (for face).
Price 90EUR. For sale for 60EUR.
Contact:
Uta Giersdorff
Frühlingstraße 6
85354 Freising
08161 537810
uta.giersdorff@gmail.com
---
Sparse Billi Bolli bunk bed for sale, pine oil waxed
Offer 1796 (Kids furniture second hand). Placed on 27 July 2015, sold on 27 July 2015
sold
Accessories: 3 bunk boards, 2 handles, slats, ladder 5 ladder, climbing rope, swing plate.
The bed is made to measure and 90 cm x 190 cm tall.
The accompanying mattress is 87 cm x 179 cm.
It's the "ALEX plus allergy" youth mattress with washable mattress cover.
She was additionally protected with separate moisture barrier.
The bed was bought new in 2008 and is in good condition. It has the usual signs of use.
The new price was 1360 euro.
Price 500 euro.
NON-SMOKING HOUSEHOLD.
Bed can be picked up by appointment in 30851 Langenhagen (near Hannover).
Feedback:
Hi, the bed was sold on the same day, and picked up at the weekend.
Thank you very much!
Family Kriele
---
Bunk bed 90 x 200 cm, spruce oiled / waxed
Offer 1795 (Kids furniture second hand). Placed on 27 July 2015
We sell our Bill Bolli bed grown with, as sadly out grown our oldest son.
In 2006 we started with low bed (90x200cm bed, 2 bunks, spruce oil treats).
A year later was converted in a bunk bed with slide, climbing rope, swing plate and steering wheel.
2011, we have equipped the bed with pad and climbing wall with cosy corner.
Bed has wear and comes with the following accessories:-low bed type 4, oil treated 90 x 200, spruce - conversion set for bunk bed - 2 bunks - fall protection - oiled - slide steering wheel spruce oiled - oiled natural hemp - rope swing plate - oiled pine wall with climbing holds (shortened ways bed including)-cozy corner with cushions (90x102cm 10 cm high) total we paid about 2,590 EUR for the bed and accessories.
Our price is EUR 1,450.
The bed is ready built and can be picked up in Weinheim, 69469.
Contact:
Familie Nogge
Telefonnummer 0173 6692110
Mail: fam.nogge@me.com
---
Bunk bed 100 x 200 cm, pine oiled / waxed
Offer 1794 (Kids furniture second hand). Placed on 24 July 2015, sold on 26 July 2015
sold
The bunk bed is in very good and clean condition and has only normal wear. It comes from the year 2004, what you absolutely not look at the bed.
With 2 shelves and a swing plate and 2 curtain Rails for the bottom bunk are (not fitted in the image).
A few bars are but of course there are not mounted on the screen. As well as the Assembly instructions, original documents, covers, screws, nuts etc. The lower bed is mounted at the bottom at the moment, can be mounted but of course also in the second bed height.
The original roll bed slats are also included.
The new price is approximately EUR 1,500.
We want to sell the bed for EUR 750 VB.
Well-kept, animal-free non-smoking household.
The bed can be picked up in Aalen (Germany).
Feedback:
Hi Mrs. Eckert, we have sold our bed on Saturday.
Thank you for your support and best wishes Michaela Jimenez
---
High bed growing with, 100 x 200 cm, spruce oiled / waxed
Offer 1793 (Kids furniture second hand). Placed on 23 July 2015
sold
We sell our 2008 purchased Billi Bolli high bed from oil-wax-treated pine.
The bed is in great condition and was once built and never off - or rebuilt.
We are a non-smoking household and abolished all bills, assembly instructions and DIY parts.
Details and accessories: mattress 100x200cm dimensions L: 211 cm, B: 112 cm, H: 228 cm head position A slatted frame protection boards for upper floor handles 2 bunk boards 150 cm and 112 cm front (both painted themselves blue) small shelf type rope and swing plate curtain rod set curtains we with (ship designs) new price 1138 EUR on request we want to it for 800 EUR sell.
The bed is constructed in 10318 Berlin and can be installed at any time after the purchase.
We like to send more photos on request.
Feedback:
Dear Billi Bolli team, thank you for the opportunity to offer our bed on your side.
The bed was sold within a day!
Love, family Szymanski
---
Bunk beds growing with 90 x 200 cm, beech, oiled
Offer 1792 (Kids furniture second hand). Placed on 22 July 2015
We sell oil for a sparse Loft bed with staves in beech for mattress 90 x 200 cm with accessories: steering wheel, rope m. rocking plate, curtain Rails on all four sides with light blue curtains we have purchased the bed used for 1100.00 EUR 5 years ago and sell it to 850,00 EUR.
As the beech is so stable, it has virtually no signs of wear (no labels o. ".").
Foam mattress 90 x 200 cm optional.
The bed is available in Munich Schwabing and the own dismantling.
Contact:
Birgit Huber
Wormser Straße 3
80797 München
Mobil: 0173-3637724 oder 0173-3637735