No longer need your kids bed? On this page you can put your used kids furniture and accessories from Billi-Bolli up for sale. This is free of charge for those who purchased new from us. (There is a € 50 fee* to sell Billi-Bolli kids furniture already purchased second hand.)
You may also offer your used original Gullibo bed up for sale (€ 65 fee*). When you purchase one of our kids beds, you also have the opportunity to place a free offer for your cot or baby crib that is no longer needed – also from other manufacturers – on this high-traffic webpage.
* Fees only apply to Gullibo beds and beds that were bought second hand and entirely go towards our
charitable projects
.
Notes
The offers on our Secondhand Page have been translated using an automated program and therefore may contain translation errors. We take no responsibilities for these errors or misunderstandings arising from them. Please visit the second hand page on our German website to view the offers in their original language.

We take no responsibility for the information relating to the kids furniture posted for sale by customers, as it cannot be verified by us.

Billi-Bolli Kids Furniture is not involved in resulting sales.

Assessing whether an offer is reasonably priced or not must therefore be done by the interested party. Such assessment cannot be made from the fact that the item is placed on our Secondhand Page.

Please note that for Gullibo kids beds we cannot deliver accessories or expansion parts. If you are planning expansions of the bed, we recommend a Billi-Bolli bed.
Want to stay up-to-date on new offers?
Receive an email as soon as a new secondhand offer has been posted:
---
Play Tower, pine oil waxed
Offer 2024 (Second hand kids furniture). Placed on 11 February 2016
We sell the Playset for low "youth bed".
Bunk Board with portholes, swing beam, play ground and the ladder belong to the tower.
Two years old - but (unfortunately) hardly used and little used tracks.
Non-smoking household.
The conversion set cost EUR 440.
We would introduce ourselves to EUR 250.
Pick up in 83080 Oberaudorf
Contact:
Familie Hartmann
83080 Oberaudorf
Telefon 0 80 33 - 30 899 30
audorf@web.de
---
High bed growing with, converted into the bunk bed
Offer 2023 (second hand loft bed). Placed on 11 February 2016
We sell one of our two Billi Bolli bunk beds...
We bought bed 2009 directly from Billi Bolli. 2014 we have converted it to the bunk bed because our daughter since wanted to sleep rather down and play up and read. The bed is in good condition and has not been painted or decaled, so it looks almost like new always. Like to come and check it out.
Dimensions: L 211 cm, B 102 cm, H 228.5 cm spruce untreated, original Billi-Bolli oil wax treatment 2 slats protective boards for upper and lower bunk bunk Board front longitudinal and face up (upper floor) small shelf (pictured upper floor) caps paints for wood curtain rod set (oiled) for M-width for front - and side (3 bars) 1 Nele plus youth mattress allergy 87 cm x 200 cm (original to the bunk bed) swing plate with hemp rope with this but not in the photo : Total 1 steering wheel new price high bed and conversion set: 1682,96 EUR (invoices available) our price: 1100.00 euro VB we happy help to dismantle the bed together with us, so the build at home easier.
As accessories, we'd have to give even a new swing seat chilly by HABA on suspended material and storage network for 90,00 euro (price approx. 130 euros).
Contact:
Nicole und Peter Thoma, 83629 Weyarn
Telefon: 0 80 20 / 90 85 80 oder 0172 / 810 96 32
Email: pettho@aol.com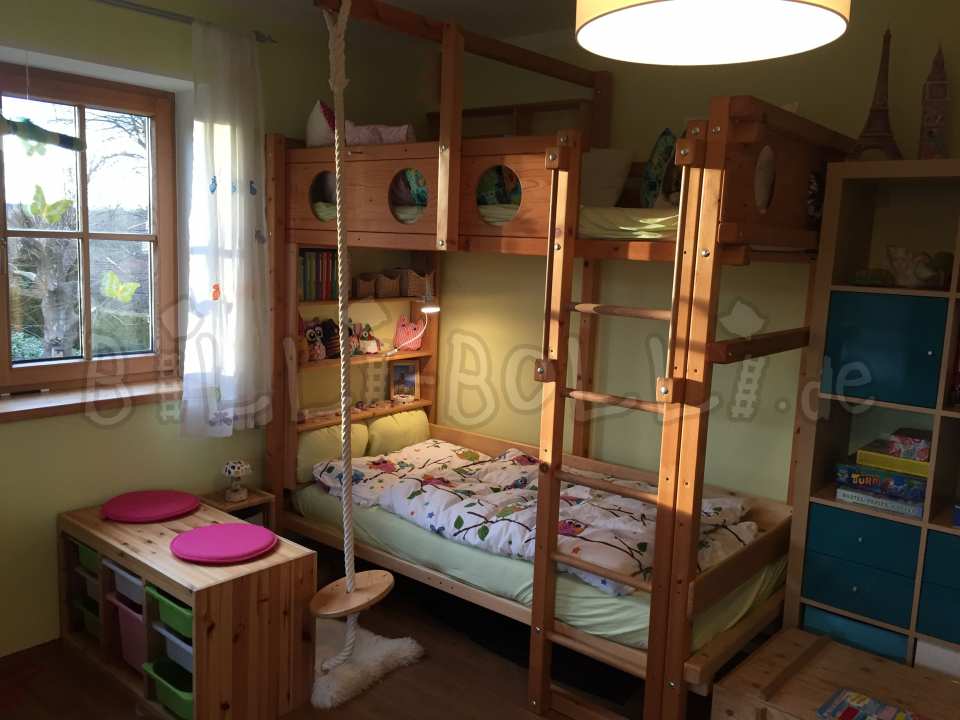 ---
Bunk bed laterally offset with bunk boards in pink and pastel blue
Offer 2022 (second hand bunk bed). Placed on 09 February 2016, sold on 10 February 2016
sold
We sell our Ballantyne Billi bed purchase may 2013, from a non-smoking household.
Description: bunk bed side.-offset, beech untreated with bunk boards 90 x 200 cm, incl. supplement to separate build of both beds including 2 bed slats, grab handles and protective boards for the upper floor 2 times bed box, beech 2 times steering wheel untreated climbing rope made of cotton with swing plates, beech curtain rod set untreated 2 times Prolana Nele plus youth mattress 87 x 200 can rest color pastel blue RAL 5024, if left untreated, for 2 pages incl. curtain to the piece dimensions : L: 307 cm, B: 102 cm, H: 228.5 cm small signs of wear on the painted parts (bunk boards).
New price in may 2013: less than 3.400,-euro our asking price is 2.800,-euro (pick up price) the bed is built yet, the buyer can dismantle it yourself so that the structure is easier later.
It can be mined also on request.
Because a private sale, no aim, warranty, and redemption, cash sales.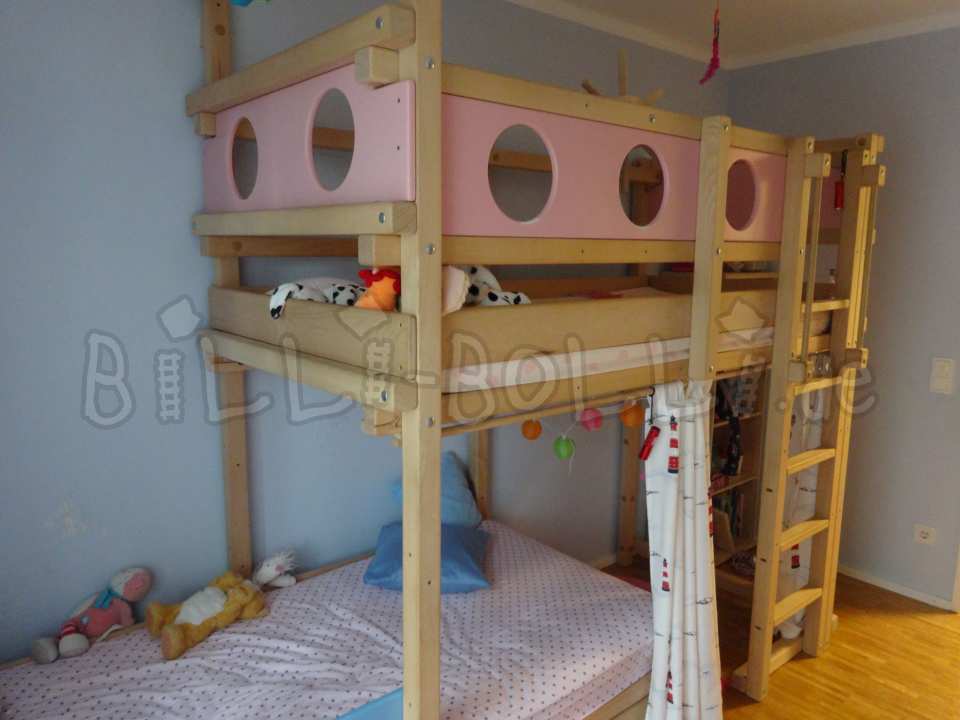 ---
Team bed, pine white varnished
Offer 2021 (Second hand kids furniture). Placed on 08 February 2016
We sell a team bed, 100 x 200 cm, spruce white glazed exterior dimensions: l: 211cm, B: 112 cm, H: are 196 cm at the foot end and front attached bunk boards in spruce oil waxed.
The slatted frame was subsequently attached.
On request a suspended seat by HABA is, for which a new tape must be purchased.
The bed is well preserved with little wear.
We are a non-smoking household.
The bed is built yet, a self removal is recommended, so that it can be built easier later. Of course, we can help in the removal. To discard only at pickup.
New price in October 2008 just under 1300 EUR our price is 600 EUR
Contact:
Familie Reckel
38442 Wolfsburg
ku.reckel@t-online.de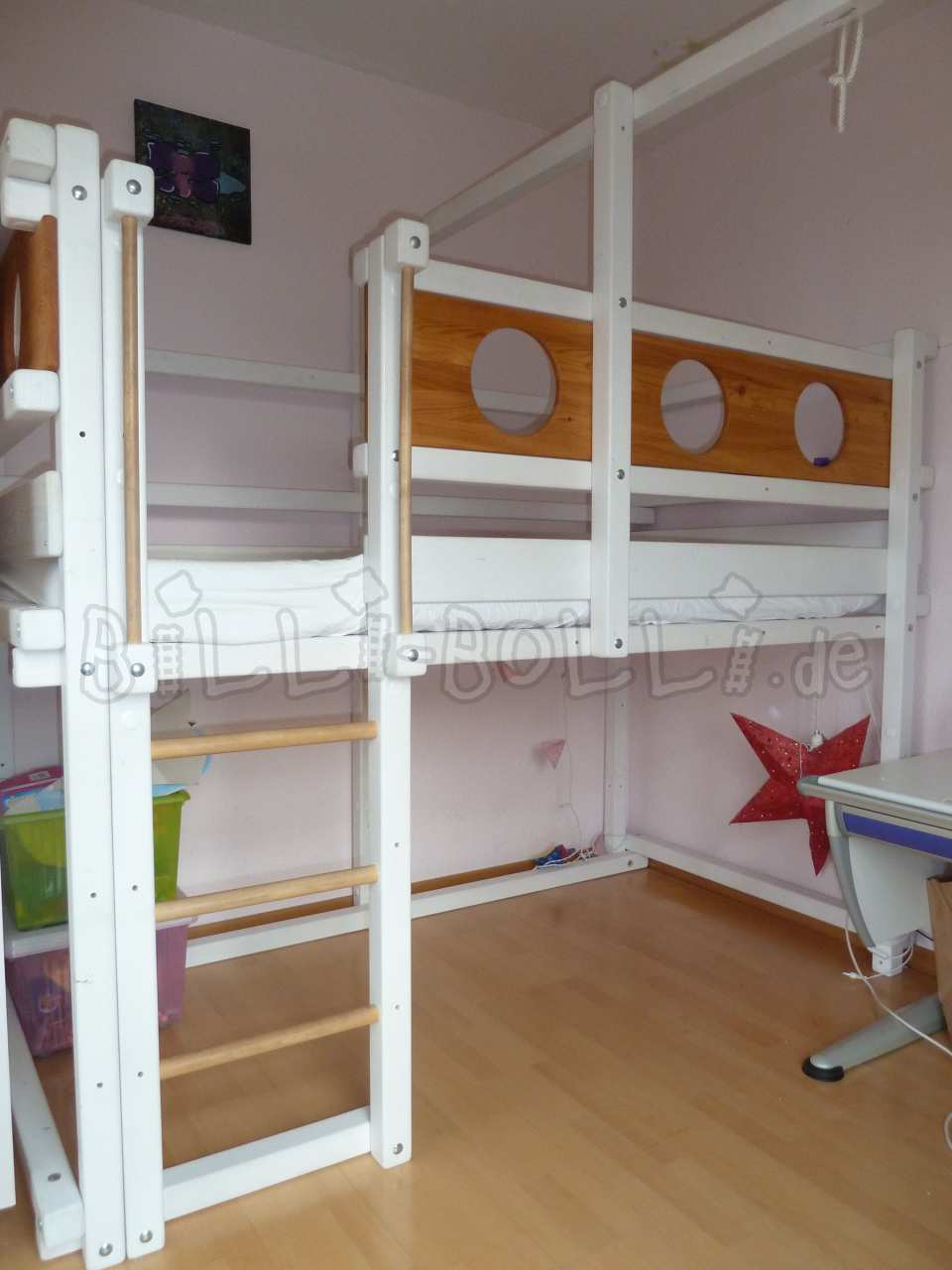 ---
Bunk bed of spruce oil waxed, 100 x 200 cm
Offer 2020 (second hand loft bed). Placed on 08 February 2016
We want to sell our 2006 purchased Billi Bolli bed: the time was nice, but now our son has outgrown the high bed.
It was bought in 2006 for ca 1200 EUR, with the illustrated Accessories: sparse high bed, 100 x 200 cm, spruce oil waxed steering wheel bunk Board for a short and a long side, spruce oil waxed swing seat chilly with we oiled waxed is still a slide curtain rods from the bed of big brother available with fixed Hängegurt small shelf, spruce, either to the bunk Board can be attached. The necessary short protection board exists. Slides mounting SR is missing and can be either purchased or existing wood a conversion kit "made".
We if you wish would give off the high-quality Prolana mattress Alex plus allergy to. She has only slight traces of usage and the mattress cover is freshly washed.
The bed is disassembled and ready for pickup in Hamburg-Volksdorf.
New price 2006: 1200 EUR (price without mattress) asking price: 650 EUR
Contact:
Familie Essert
Claudia@Essert-online.de
Mobil: 0160 9690 1352
---
Pine bunk bed with flower boards
Offer 2019 (second hand loft bed). Placed on 08 February 2016
Unfortunately we have to separate us by our beautiful Billi-Bolli flower bed.
We bought it new in 2012. It has the dimensions of 2.11 x 1.02 m, coloured oiled spruce with page protection from colourful flower boards and swing plate.
Our daughter loved the bed.
The mattress is not sold.
The bed is built up to the 18.02.16, can be picked up even sooner.
It has hardly any traces of use (no stickers or similar).
New price: 1433 euro our asking price is 800 EUR VB.
Contact:
Familie Rachner in 04425 Taucha
Tel. 0175/1666792
---
Bunk beds growing with 80 x 190 cm, spruce oiled waxed
Offer 2018 (second hand loft bed). Placed on 02 February 2016, sold on 04 February 2016
sold
Looking for new home: we sell the well-maintained Billi Bolli bed our daughter, mattress size 80 cm x 190 cm, which fits in a smaller room. It was great as a four-poster bed, most recently as a youth bed - thanks to the purchased conversion kits.
Bunk beds growing with, mattress size 80 x 190 cm external dimensions: L: 201 cm, B: 92 cm, H: 228.5 cm incl. Duckboards, protection boards for upper floor, grab rails and mattress mouse boards (of us) Red varnished for three sides large shelf spruce oiled for mattress width of 80 cm small shelf spruce oiled with (even more) Red glazed rear curtain rod set (on request with even sewed red curtains) conversion kit for canopy bed (bought in 2010) conversion set to low bed type (2006/2010/2014) price of b (bought in 2014) all together 1222 Euro, disassembled ready for 550 euros in Frankfurt on the main. Original invoices and Assembly manuals, bars are marked for the building.
Feedback:
Dear Ms. Eckert, our bed has found a new home ;-)!
Thank you very much for your help and best regards from Frankfurt, Katja Gussmann
---
Bunk bed 90 x 200 cm, spruce oiled waxed
Offer 2017 (second hand bunk bed). Placed on 01 February 2016
BILLI BOLLI must unfortunately leave us.
We sell the bunk beds, pine bedroom level, top game floor untreated, below.
2010 at the company Billi Bolli for 1800,-EUR.
It is very well preserved, white colours of the wall painting, no adhesive residue, no traces of the time normal wear, to a few bars.
Accessories: 2 small shelves 2 bunks with rollers 1 climbing carabiner with hanging Chair youth mattress Nele plus by Prolana (special size 87 x 200 cm, coconut/rubber) flat head sprouts Manager handles installation manual invoice collection price: it can dismantle 990,-EUR of the buyer, so the building is subsequently easier, or we remove it.
Private purchase, no warranty, guarantee or redemption, cash sales.
Location: Lippstadt
Contact:
Susanne Lödige
s.loedige@yahoo.de
---
Bunk beds growing with 90 x 200 cm, pine oil waxed
Offer 2016 (second hand loft bed). Placed on 01 February 2016
We would like to sell our our son's bunk bed growing with.
The bed is in good condition.
Bought new at Billi Bolli in the summer of 2002 for NP 1.595,93 euro - but as a bunk bed side offset.
The lower level of sleep is no longer available. The bed can be used as a sparse Loft bed.
Description: high bed pine, oil waxed including slats, ladder and grab rails for head Accessories: steering wheel, small Bookshelf, curtain rods (not on the picture) and mattress can with listed asking price: 680 euro location: Munich
Contact:
Familie Ballay
Standort: München
089/ 81089183
petraballay@freenet.de
---
Glazed both top bed 1A, 90 x 200 cm, pine itself
Offer 2015 (Second hand kids furniture). Placed on 01 February 2016
We sell our very nice "both above bed", which was newly purchased by us in October 2013 because we were moving and it no longer fits in the room.
The bed was in a girl's room in a non-smoking and pet-free household. It has normal wear (a few dents in some places from the swing plate).
Also, we have cut the two poles that carry the swing-arm to approximately 5 cm because they were too long for the room.
It has following dimensions: mattress dimensions: 90 x 200 cm outer dimensions: 211 x 211 x 228,5 (now shortened to ca 220) cm color of caps: pink the sleeping planes are on the heights of 3 and 5 and have a high impact protection. The lower level of sleep is suitable from the age of 2.5 top from 5 years.
This includes the climbing rope and swing plate. (Also 3 new quest for the head).
The new price was 1635,-EUR and 1000,-EUR for that we would like.
The bed is already divided, but the Assembly instructions.
Only pickup in the North of Munich.
Contact:
Familie Bobrik
miabobrik@googlemail.com