No longer need your kids bed? On this page you can put your used kids furniture and accessories from Billi-Bolli up for sale. This is free of charge for those who purchased new from us. (There is a € 50 fee* to sell Billi-Bolli kids furniture already purchased second hand.)
You may also offer your used original Gullibo bed (no replica) up for sale. When you purchase one of our kids beds, you also have the opportunity to place a free offer for your cot or baby crib that is no longer needed – also from other manufacturers – on this high-traffic webpage.
* Fees only apply to Gullibo beds and beds that were bought second hand and entirely go towards our
charitable projects
.
Notes
The offers on our Secondhand Page have been translated using an automated program and therefore may contain translation errors. We take no responsibilities for these errors or misunderstandings arising from them. Please visit the second hand page on our German website to view the offers in their original language.

We take no responsibility for the information relating to the kids furniture posted for sale by customers, as it cannot be verified by us. Billi-Bolli Kids Furniture is not involved in resulting sales. Assessing whether an offer is reasonably priced or not must therefore be done by the interested party. Such assessment cannot be made from the fact that the item is placed on our Secondhand Page.

Please note that for Gullibo kids beds we cannot deliver accessories or expansion parts. So if you are planning expansions of the bed, we recommend a Billi-Bolli bed.
Want to stay up-to-date on new offers?
Receive an email as soon as a new secondhand offer has been posted:
---
Bunk beds growing with 90 x 200 cm, spruce coloured oiled
Offer 1875 (second hand loft bed). Placed on 08 October 2015, sold on 09 October 2015
sold
We sell the Billi Bolli bunk bed growing with in spruce, honey oil, mattress size: 90 x 200 cm it is about 8 years old and has three Knights Castle boards as an accessory: 2 x 42 cm adapter for long side and short side 1 x 102 cm.
The bed was in a non-smoking household, has a few signs of wear. Never all ways of building were performed so that key may be a couple of screws may be missing.
NP: 1.000.-EUR our price: 500 EUR bed is already built and is located in Berlin Biesdorf. The original assembly instructions is available. We ask for pickup.
Feedback:
Hello.
The bed is already sold. Thank you.
LG Schulz
---
Bunk bed 90 x 200 cm, pine oil waxed
Offer 1874 (second hand loft bed). Placed on 08 October 2015, sold on 09 October 2015
sold
We sell our beloved Billi Bolli bunk beds with accessories. We move into a new House and there is unfortunately no longer set up the bed. We bought the bed originally as a bunk bed. When our second daughter was old enough, we have expanded it to the bunk bed over corner. Finally, the bed to the normal bunk bed for space reasons was rebuilt (as shown on the pictures to see). While the head was shortened slightly to get the bed boxes.
Is a fall protection for the lower bed, the bed was new sold end of 2006 bed - slatted - fire pole - bunk boards - two bed boxes - two small shelves incl. back – and we bought 2011 used as accessories. Overall, the bed is in good condition. It has normal wear. Our kids have scribbled out in a few places. Slight color differences emerged over the years. We are a tierloser non-smoking household.
The original delivery note, Setup instructions, and the documentation for the extensions are all still available.
The bed incl. accessories has a new price of just under 2000 euro. We would sure like to 1000 euro.
The bed is built up in the photos to see in Munich and can be visited there, broken down and picked up. We can gladly remove the bed or help.
Feedback:
Hi Mrs. Eckert, we have sold our bed. Thanks for the set!
Many greetings Harald Pehl
---
Original Billi Bolli bunk bed, white varnished, 90 x 200 cm
Offer 1873 (second hand bunk bed). Placed on 06 October 2015
We sell the white glazed Billi-Bolli bunk bed of our son.
It is 9 years old and is, thanks to the solid construction just as stable as the first day. The bed is equipped with lots of accessories. Next to the slide, the swing plate, the steering wheel, the slatted frames and the bunk boards's has 2 spacious drawers, one of them with separations, so the room including can be fully exploited. The stairs are in POS. (B) right, the slide in item A. A conversion is possible, however, because all elements to buy more easily. The bed has never moved and was always in the same non-smoking household.
The bed shows a few signs of wear.
The buyer can free of charge to have the 2 IKEA Mattresses.
NP: 1900.-approx asking price: 1100.-EUR VB bed stands in Munich (close to Arabellapark) and can be dismantled for best together. The original assembly instructions is available. We ask for pickup.
Contact:
Familie Weise
0172/ 8601856
isabelweiseshea@aol.com
---
High bed growing with beech 90 x 200 cm for little pirates oiled
Offer 1872 (second hand loft bed). Placed on 05 October 2015
We sell our high bed growing with, consisting of from: slatted frame swing beam bunk boards for the front and front-side rope with swing plates (no photo, was never in use; Room was too small) wheel curtain rods front and little side game crane Regal mattress (custom-made for this bed) bed is converted in the "youth"Variant.
Before the conversion, we have made only 2 photos - without mattress. It is also not all things in the photo wheel or sailing and game crane.
Our bed is a really beautiful pirate bed and our son was always very proud of and has much and here alone and played with friends. The game crane was always the absolute highlight for all guys. But also the steering wheel has long been a very important accessory.
Our bed was already in several places in the room and therefore we had screwed the game crane on different sides of the forehead and sometimes on the front. However, the screw holes have been made always carefully, and if you don't know it is not striking.
The bed was not glued or painted and is in very good condition.
We very much recommend this bed - it's easy tip.
It is currently structured, is replaced in about 3 weeks.
Like, it can be seen in the Munich West. Self removal would be useful, so that one has ever understood the principle.
Please note: for 2 years, we have a dog, whose Lieblingsplatz is under the bed. Of our bed has certainly no disadvantages, but because I fortunately do not know with allergies, I mention it just in case.
The bed is delivered completely with all parts. We also still have assembly instructions.
End of 2007 we have acquired it. The price was EUR 2,000.
We would like another 1100 EUR for it.
We always happy to answer questions.
Contact:
Familie Nagel
0170-2822859
sylvia.nagel@googlemail.com
---
Child's desk 123 cm, pine honigfarbend oiled
Offer 1871 (Second hand kids furniture). Placed on 05 October 2015
Now my son has grown too large for the desktop. That's why we want to sell him about your used furniture page. He has prepared much joy to my son.
Width: 123 cm pine honey then price oiled 284 euro all accessories are available (extension of the legs, and insert wood to tilt the plate) receive - only a bit lighter after.
Asking price $70 location: Laatzen near Hanover
Contact:
Katlin Huhs
0511/ 89992601 oder 0172/ 415785
---
Bunk bed 100 x 200 cm, spruce oil
Offer 1870 (second hand bunk bed). Placed on 05 October 2015
We sell the 100 x 200 cm bunk bed for our two children, because they now get their own rooms. The bed is made of oiled spruce and was acquired by us in 2011 new. It has some wear and stickers, but removed. It comes with the following equipment: Accessories: two boxes of bed protection boards, top and bottom two slats natural hemp rope + swing plate steering wheel game crane with broken crank fire Rod bed is very stable and easily holds the next five years. We have paid at that time about 2.300,00 EUR price and would like 1450.00 EUR for it.
The bed can be visited like us in Frankfurt am Main and picked up.
We are of course in mining.
Thank you once again for very nice for almost five years with this great bed that much joy prepared our children and we now must separate the with some wistfulness.
Contact:
Familie Specht
069/ 25422987
thilo.specht@cluetrainpr.de
60487 Frankfurt am Main
---
Painted white bunk bed laterally offset, 90 x 200 cm, pine
Offer 1869 (second hand bunk bed). Placed on 05 October 2015, sold on 06 October 2015
sold
We sell our beloved and much pre-recorded adventure bed only because it simply doesn't fit into the new House! Bought it was 2012. Built first with baby bars and head protection.
Pilot holes for a possible structure for a both-up bed available.
Dimensions: L 307 cm, B 102 cm, H 261, pine white painted bunk boards slats protective boards up above, sprouts oiled beech, game crane oiled beech, fire Rod oiled beech, climbing rope with swing plates oiled beech, steering wheel oiled beech, 1 small shelf, oiled beech ...ohne white lacquered mattresses or other decorative baby bars and head protection...
As has been said this bed is properly recorded, be climbs and loved. Therefore, it has received child-friendly wear, is of course due to the Superbillibolliqualität still in very good condition.
The pure purchase price for the bed was 2012 3.048,00EUR the prepayment discount we paid 2.987,04EUR. Invoice and instructions are available.
We sell bed now for 1500EUR.
It can be like in Frankfurt Nordend / Bornheim are visited, mined, and picked up.
Feedback:
Dear Billi Bolli team, thank you very much for this great bed and super service.
The bed has already been sold!
Many greetings, fam. Sicuro
---
Bunk bed laterally offset, 90 x 200 cm, pine oil
Offer 1868 (second hand bunk bed). Placed on 01 October 2015, sold on 01 October 2015
sold
We sell the beloved Billi Bolli for our upcoming move "Bunk bed side puts" our sons. Bed is eleven years old and has accordingly a few traces in the form of slight scratches, but free of stickers, and stable as eh and per.
The bed without any additional parts can both bunk "laterally offset" be configured as bunk bed "on the corner" with a.
Details on the bed: bunk bed laterally offset, two slats protective boards oiled pine for upper and lower bunk ladder position A swing beam rope natural hemp curtain rod set for three sides of caps in blue Assembly instructions original invoice the mattresses are present at the age of 2. We provide to you on request, as well as the self-sewn curtains.
The bed has cost new around 1100 euros, we would still like to 600,-euro for it.
At the time, is still built on the bed and can be visited in Lübeck's old town.
In the elimination, we are happy to help.
Feedback:
Dear Ms. Eckert, thank you very much for the quick setting of our offer.
We have sell the bed on the same day.
Many greetings from Lübeck family Kunz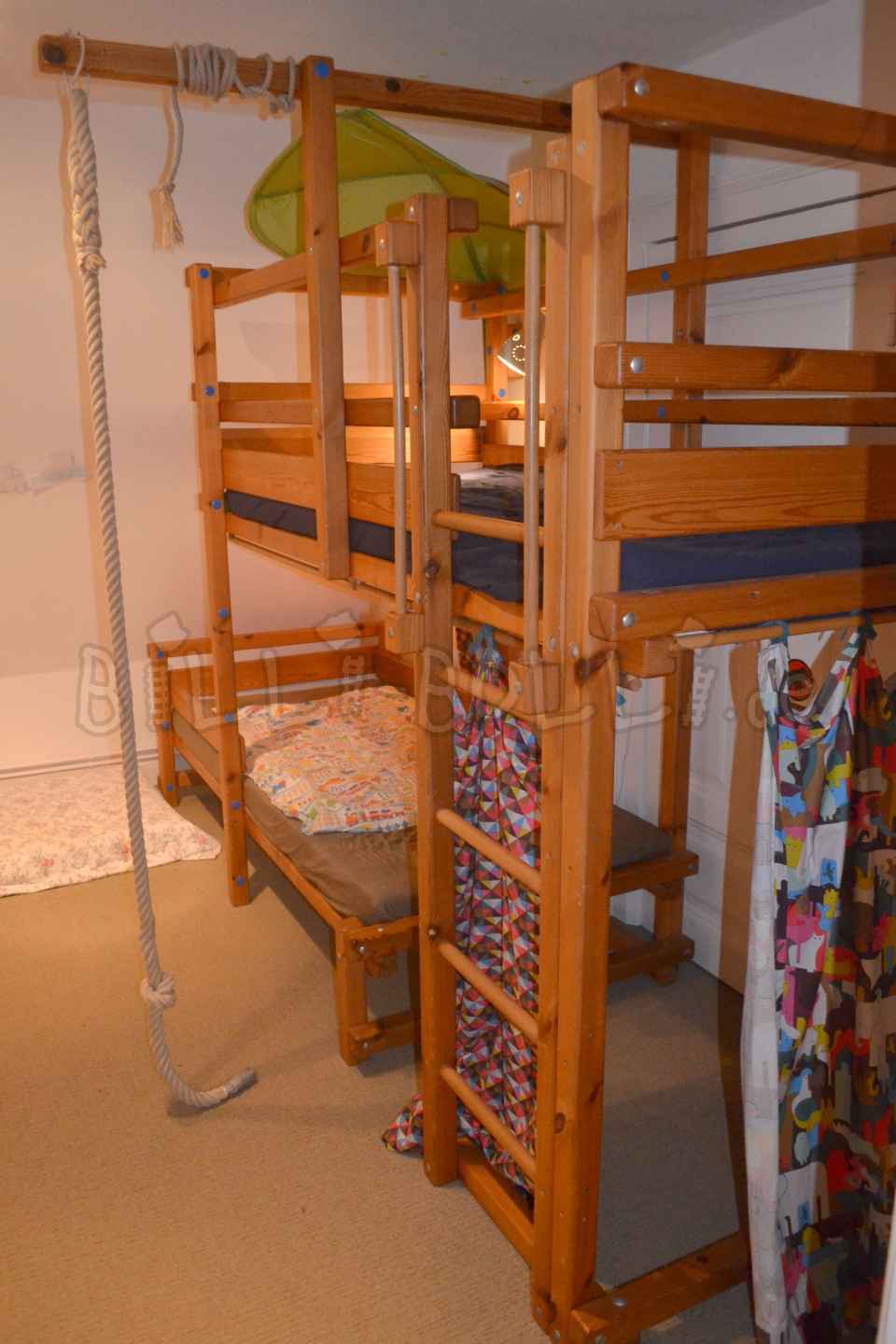 ---
Bunk beds growing with 100 x 200 cm, pine oiled / waxed
Offer 1867 (second hand loft bed). Placed on 30 September 2015
We sell our beloved sparse Billi Bolli bunk bed (2006) due to moving.
Length: 211 broad 112 height 228.5 cm swing beam outside with Bedouin tent Knight Castle boards pine oil for a long and a short side small shelf pine oil "Prolana youth mattress" cover washable, special size 97 x 200 cm for simple inclusion of the bed NP 1,826 euro we would have like to 1100 euro for it.
Contact:
Familie Scheftschik
nadine.scheftschik@gmx.net
06202/ 4096908
Schwetzingen
---
Roof slant bed with pull out bed 90 x 200 cm, spruce oil
Offer 1866 (second hand accessories). Placed on 30 September 2015
sold
Roof slant bed with pull out bed bed to the undressing, spruce oiled 211 cm / 102 cm / 228.5 cm we sell our roof slant bed with the following accessories: swing beam blue climbing rope & swing plate wheel shop Board Nele plus youth mattress 90 x 200 cm foam mattress, we have bought in 2006 the main bed 80 x 180 cm bed bed bed bed head and attachment 2010 new price approx. 1000 euros price 600 euros (negotiable) the bed must be picked. The removal can be done by us.
Location: Dorfstrasse 63, 8906 Bonstetten, Switzerland
Feedback:
Dear Mrs Eckert all thank you very much for this opportunity that Billi Bolli bed via your secondhand website for sale.
It worked just fine and we could already find a lucky buyer within the shortest time.
Please mark our offer with "sold".
Good luck you and the whole team of Billi Poot!
Beck family