The Skyscraper is roomy enough to sleep three people on a small floor space, making it the ideal option for rooms with high ceilings. If you opt for a mattress width of 140 cm, the bed will even offer space for six.
The upper level is suitable for teenagers and adults only.
from € 2,144.00
free shipping (DE)
🛠️ Configure skyscraper bunk bed
Climbing rope free of charge when ordering in September!
can be assembled mirror-inverted
(click on image)
Exterior dimensions of the skyscraper bunk bed
Width = mattress width + 13.2 cm
Length = mattress length + 11.3 cm
Height = 261.0 cm
Required ceiling height: approx. 315 cm
Example:
mattress size 90 × 200 cm
⇒ external dimensions of the bed: 103.2 / 211.3 / 261.0 cm
Variante für weniger hohe Räume
can be assembled mirror-inverted
(click on image)
Bei dieser Variante des Wolkenkratzer-Etagenbetts sind die Schlafebenen jeweils ein Rastermaß tiefer: Die untere Schlafebene ist auf Aufbauhöhe 1, mit mittlere auf Höhe 4 (ab ca. 3,5 Jahren) und die obere auf Höhe 7 (nur für Teenager und Erwachsene).
Sie ist die Lösung, wenn Sie drei Kinder in einem Raum mit wenig Grundfläche unterbringen möchten, und die für die Standardausführung des Wolkenkratzer-Etagenbettes erforderlichen 3,15 m Raumhöhe nicht haben, aber zumindest ca. 2,80 m Raumhöhe zur Verfügung stehen.
Configure skyscraper bunk bed
Delivery
By default, it comes with:
Screwing material
a detailed step-by-step guide tailored to your configuration
Not included by default, but are also available from us:
Mattresses
Bed Boxes
more on photos with accessories pictured
individual adjustments such as extra-high feet or sloping roof slants
You get ...

* highest safety according to DIN EN 747
* Pure fun thanks to a wide range of accessories
* Wood from sustainable forestry
* a system developed over 28 years
* individual configuration options
* personal advice: +49 8124 / 907 888 0
* Production in our workshop
* first-class quality from Germany
* Conversion possibilities with expansion sets
* 7-year warranty on all wooden parts
* a detailed setup manual
* Possibility of secondhand resale
* the best value for money
Customize the skyscraper bunk bed with our accessories
Customize your cot with our diverse accessories. For example, you can turn a ship, a princess castle or a fire engine out of bed. These are the most popular accessory categories:
Customer opinions on the skyscraper bunk bed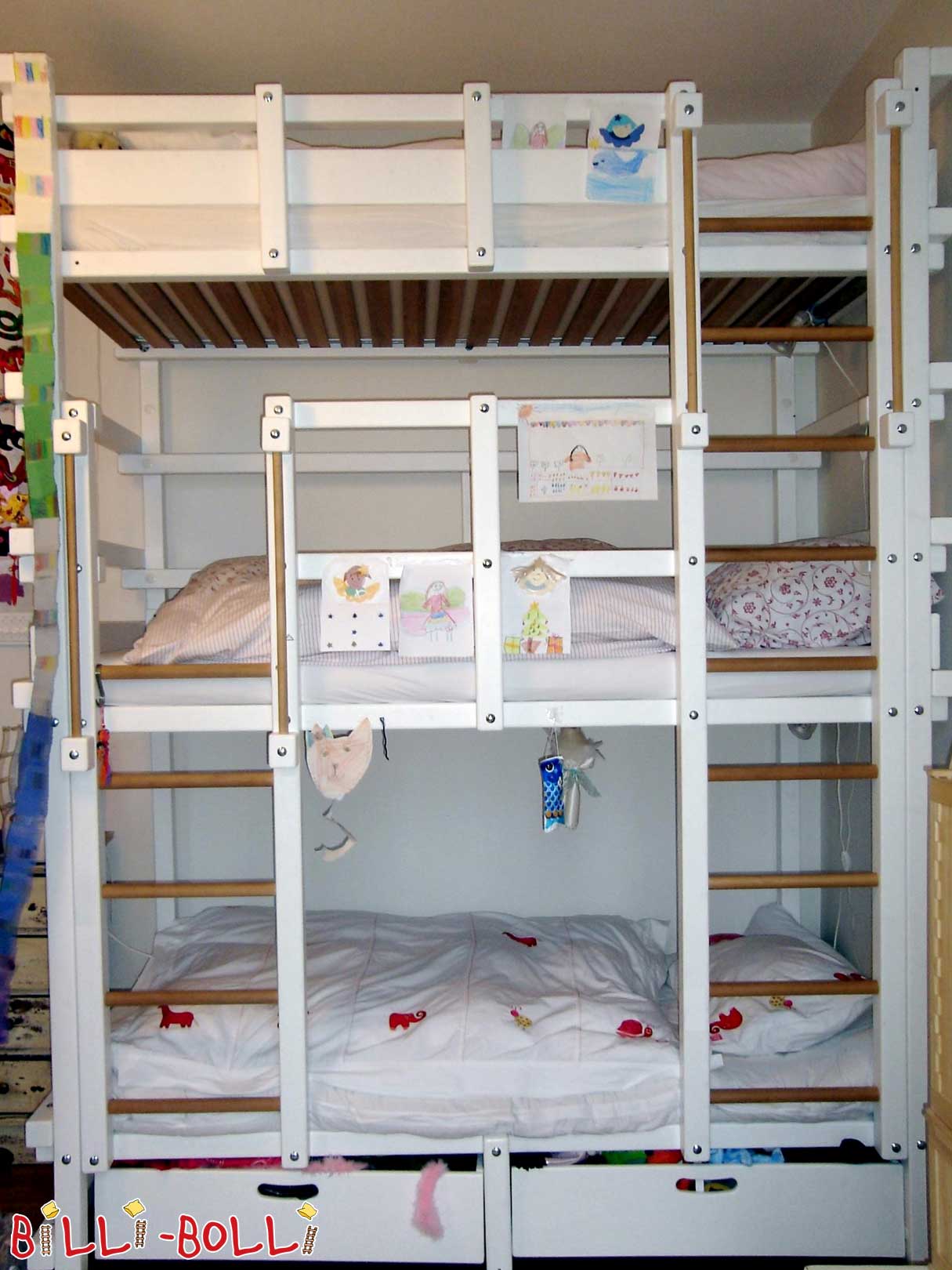 As you can see, we've got "only" 2.90 m in ceiling height, and yet despite that, the bed is a huge success!
Because the bed is anchored securely to the wall, it doesn't move one bit and all children can go up and down freely without any problems at all.
Roy Family